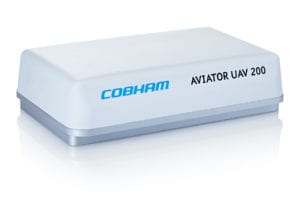 Cobham SATCOM has announced that it has successfully completed live video transmission trials over the AVIATOR UAV 200 low SWAP satcom terminal.
Working independently with AnsuR Technologies in Norway and Barnard Microsystems in the United Kingdom, the satcom terminal has passed strategically important video data, a great value multiplier for beyond line of sight unmanned aerial vehicle (UAV) operational scenarios.
Using Inmarsat's recently launched SwiftBroadband-UAV service, both companies have passed good quality live video over what is considered a very low bandwidth link for this type of application.
Andrew Legg, Regional Sales Director for Cobham SATCOM, said: "Full HD video at 1 fps or 800 by 600 at 6 fps is a significant value and strategic enhancement for LALE UAVs that would typically be flying blind when beyond the range of high bandwidth point to point links. This allows these small tactical UAVs to operate in mountainous areas or in long range out-and-back applications whilst offering the operator a massive advantage of real-time situational awareness. The ability to re-task the platform real-time is very important. It helps to drive costs down and mission efficiencies up.
"While these low resolution or low frame rate video transmissions will of course not meet all customer requirements, we have to remember that it is not the video technical specification that is important, it's all about the content or information contained in the transmission and whether that adds value to the mission."
The AVIATOR UAV 200 is a contended bandwidth 200 kbps all in one LRU solution operating on the Inmarsat SwiftBroadband network. With a single contract, no rain fade in L-band and global coverage excluding the poles, it leverages the proven reliability of the Inmarsat network to offer a very low size, weight and power system. It consumes less than 28 Watts of power and weighs 1.45kgs.
Harald Skinnemoen, Founder and CEO, AnsuR Technologies, said: "AnsuR Technologies has been developing software solutions for mission-critical operations for a decade, including flying the first UAV with the Cobham SB200 aero satcom terminal. With improved best-effort communication capacity over Inmarsat, and the ease of integrating it with our software, the AVIATOR UAV 200 terminal was exactly what we were looking for to successfully provide customers a long range photo and video communication capability via satellite even for UAVs under 25kg."
Dr Joseph Barnard, Managing Director, Barnard Microsystems Limited, added: "Our technical staff installed the Cobham AVIATOR UAV 200 satcom terminal on our Panchito medium range Remotely Piloted Aircraft within five working days of receiving the unit, including the interfacing of the navigation information from the Panchito Flight Management Unit. Three working days later we relayed compressed video at 1 to 4 frames per second via the Cobham AVIATOR UAV 200 terminal using the Inmarsat SwiftBroadband satellite data relay service at data throughput rates from 110 kbit/sec to 190 kbit/sec, using the less expensive contested or shared service option.
"Our technical staff were impressed with the lightness, the low electrical power draw and the superb performance of the Cobham AVIATOR UAV 200 terminal, based on our experience with a range of other airborne and land based satcoms terminals. The Cobham AVIATOR UAV 200 is our satcom terminal of choice for our Panchito RPA, which is used in civilian mapping and monitoring applications, and as an Electronic Support Measures and Monitoring RPA in military applications."