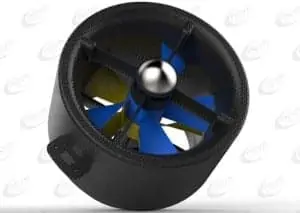 Neva Aerospace, a pan-European consortium which is developing industrial and commercial unmanned aircraft systems (UAS) based on its patented distributed thrust concept, has announced the release of its first OEM electric turbofan (ETF). Neva claims that these ETFs are between two and four times as efficient as existing, standard electric ducted fans (EDFs).
Neva's Athena ducted fans are optimised for static thrust and VTOL/STOL, with a unique turbofan housing design further boosting the thrust without any compromise on weight saving. According to Neva engineers, Athena ETFs will be able to lift drones of more than 25kg with 10 turbofans across a surface of less than 1.5m diameter.
The combination of light weight and improved stability and yaw control, particularly for the two-stage contra-rotor version, affords designers unprecedented options for multiple turbines to be used and controlled in sync, and offers increased scope for redundancy. The traditional EDF (electric ducted fan) has had a long history of use in conventional electric airplanes operating in linear flight mode, but until now those available on the market were only designed for linear flight (planes with a turbine air-entry speed ranging from 100km to 300km/h). Efficient VTOL operation requires a turbine designed for low entry air speed. The Neva Athena ETFs allow static flight with a speed close to zero and deliver high efficiency up to 6 g/W and maximal thrust up to 2.5kgf per turbine.
Find suppliers of Power & Propulsion solutions for unmanned systems >
Robert Vergnes, Neva chairman and co-founder, said: "The revolutionary market impact of static thrust turbo-fans for drones is akin to what the introduction of touch-screens was to smartphones. Neva's static thrust turbines are easy to use, efficient, and enable developers to implement broader functionality."
"Athena ETFs are our first public release of OEM sub-systems. While the long-term Neva project is about developing complete heavy unmanned aerial vehicles, we are pleased to share this technology with forward-thinking members of the engineering community who have recognised that electric distributed propulsion is the future for safe and efficient electric aviation; such engineers are hungry for a game-changing innovation like this."
"The change will accelerate as the unmanned systems industry's focus moves towards workhorse vehicles that can carry useful and economic payloads or undertake meaningful robotic tasks. Our own current development projects centre around smart cargo and robotic UAVs with take-off weights of up to 2 tonnes."
"However, until now, there were no electric turbo-fans suitable for the vertical and short take-off and landing (VTOL and STOL) that is required for operations in congested and restricted urban and industrial environments. We have now solved this problem and the technology behind the Athena series will catalyse our ongoing UAV development."
Bringing the first Athena turbine to the OEM market is the result of more than four years of R&D by Neva Aerospace. The original design concept produced by Neva's Head of Technology Laurent Martin has been refined through computational fluid dynamics conducted by Neva consortium member Schübeler Technologies GmbH. Safety is intrinsic in the design of all Neva ETFs: there are no uncaged propellers and in some models internal redundancy is offered with 2 separate stages, 2 motors and 2 electronic speed controllers.
Prf. David Brotherton-Ratcliffe, chief science officer of the Neva consortium said: "The high thrust density and high efficiency of Athena ETFs provide designers of VTOL and STOL systems with a new freedom to evolve their systems and bring their ideas to life."
"The market is clearly in need for compact, safe machines that can carry economically-useful payloads. It now has the core component for such systems with Athena electric turbofans."
Athena-1 V1.5 specifications:
Inlet Diameter: 230mm (8 inches)
Weight: from 600g to 730g
Thrust: from 1Kgf to 2.5Kgf with power from 170 Watt to 720 Watt (@4S)
Efficiency (Power Loading): from 6kgf/kWe (low thrust) to 3.5Kgf/kWe (high thrust)
Material: Composite
2 stages
Counter rotating inner caged propellers
Neva Aerospace is currently offering two types of electric turbofans (ETFs). The first is a rotor-stator design referred to as "one-stage" and the second type of design is a twin-rotor counter rotating configuration referred to as "two-stage". The net torque exerted by the turbine is optimised to be zero at a certain operating regime in the one stage design. In the two-stage design the net torque can be controlled conveniently by adjusting the power-ratio associated with the right and left-handed rotors.
Neva Aerospace chairman Robert Vergnes added: "The Athena ETFs are a milestone in drone development in general, and prove that we at Neva in particular are fulfilling our promise to investors that our powerful consortium model can and will advance through our roadmap towards the design and production of heavy unmanned vehicles and systems."