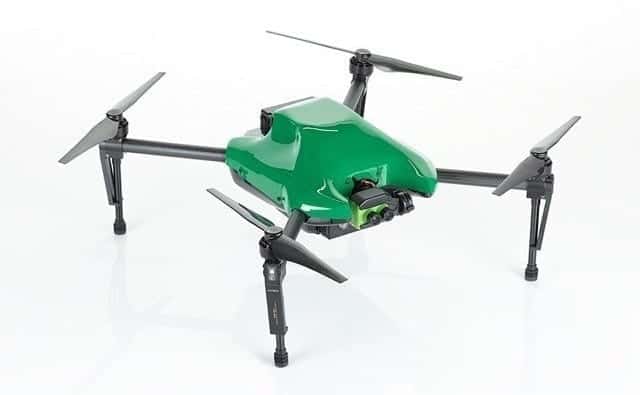 Sentera has announced the release of its new Omni Quad-Rotor Unmanned Aerial Vehicle (UAV), which is partnered with a gimbaled Sentera Double 4K Sensor. The package is aimed at the Inspection, Survey and Mapping, and Agriculture industries.The system simultaneously captures macro and micro data and provides distortion-free imagery, allowing the user to collect precise data from obscure angles.
The Omni UAV is available in Inspection and Agriculture configurations. Each standard configuration ships with one Omni UAV, one installed Double 4K Sensor, two batteries, and a durable hard-sided case. The Inspection Double 4K sensor features dual zoom lenses while the Agriculture Double 4K sensor simultaneously captures high-resolution color and near-infrared (NIR) data.
"The lightweight Omni with Double 4K Sensor on an upward-looking gimbal provides users with an unprecedented field of view while inspecting difficult-to-reach areas such as the bottom of antenna connections or the underside of bridges," said Greg Emerick, executive vice president for Sentera.
Weighing eight pounds, the Omni is compatible with a variety of sensors, including Sentera Double 4K, DJI Zenmuse X3, Z3, XT, and new Z30 sensors. Flight time with a payload is up to 25 minutes.
"We're proud that the remarkability of the Omni UAV goes well beyond capturing data from unique angles. The data created when using this package is superior to anything else available today," Emerick continued. "The little-to-no vibration construction of the Omni, plus the Double 4K sensor ensures distortion-free imagery is collected, which translates into users easily stitching images together with any standard stitching tool. They will never need to worry about stitching failure due to data distortion."
The dual zoom levels of the Double 4k Sensor allow users to review a wide-angle field of view (FOV) and audit a structure, then instantly see 12MP of detail with the narrow-angle lens. For agriculture applications, operators simultaneously capture high-resolution color, NIR, and normalized difference vegetation index (NDVI) data – providing growers with precise crop-health imagery.
Sentera's AgVault and OnTop Open Software Platforms manage the multitude of images and data collected during flight and allow near-real-time reading and analysis of the data, including working with other data sources via APIs. Data is easily cataloged and stored for future analysis.