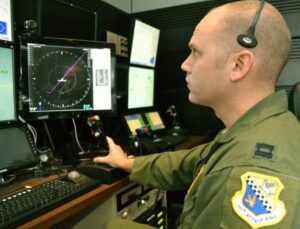 The 111th Attack Wing of the US Air National Guard has announced that the Federal Aviation Administration (FAA) has selected eight of its pilot volunteers for a study aimed at developing a Detect and Avoid display for unmanned aircraft systems (UAS) at the FAA William J. Hughes Technical Center, Atlantic City, New Jersey.
When the FAA decided to research detect and avoid displays aimed at assisting UAS integration into the national airspace system (NAS), pilots at the 111th ATKW became the stand-out choice to serve as participants.
"When finding individuals to participate in the study, we knew there are several bases around the country who [operate UAS]," said Kim Mortensen, Hi-Tec Systems Inc. program manager and pilot scheduler for this study. "When I went to visit the operations and the command structure [of the 111th Attack Wing], I was convinced that this was the group that we wanted to have working here."
Detect and Avoid for UAS is intended to provide an alternative means to See and Avoid, mandated for all manned aircraft flying in close proximity, and is essential for UAS to fly safely in the airspace with manned aircraft.
"Our task in this study is to look at the displays used to provide the pilot with the information that is required for them to remain well clear of other aircraft, " said Kevin Williams, Ph.D., the FAA Civil Aerospace Medical Institute research psychologist. "Basically, what we're talking about is the minimum information requirements for those displays."
According to their website, the FAA William J. Hughes Technical Center is the nation's premier air transportation system laboratory. The on-site NAS laboratories support the research, development, testing and acquisition of products intended for a seamless transition of safety and efficiency throughout the NAS modernization effort.
The 103rd Attack Squadron pilots here fly the MQ-9 Reaper, which has a program that displays this information while flying missions outside the continental U.S., but not for use in the NAS.
The information gathered from this study could possibly aid in securing a display that, in theory, could make UAS more suitable for state and local missions – providing Guardsmen with another way to support their communities.
"It'll be interesting to see what comes of this study," said Capt. Christopher, 103rd Attack Squadron pilot. "Being National Guardsmen, we signed up not only for conducting federal missions, but also for supporting the state.
"When we think of using UAS in DOMOPS (domestic operations), what comes to mind is the loiter time and [information gathering capabilities] of the MQ-9, which could prove valuable in state and local emergencies– supporting wildland fires or in locating stranded individuals, for example."
While not a definite utility for unmanned airframes, the possibility of using UAS in National Guard missions within the NAS necessitates that this study be conducted.
So while the usage of UAS is still subject to study and simulation, the 111th ATKW's pilots are some of the elite members chosen to help make our airspace safer.
"In every respect it's been a great operation," said Mortensen. "[The 111th ATKW pilots] are willing to go above and beyond. They've expressed interest in participating in other research that takes place [at the FAA William J. Hughes Technical Center]. I know that in future simulations, they are going to be a prime go-to resource.
"They've made it very clear that its part of their mission to be proactive in helping the military system integrate into the civilian world and evaluate how it's being done. It's a great benefit to have this expertise in a unit so close to this location."
SOURCE: 111th Attack Wing