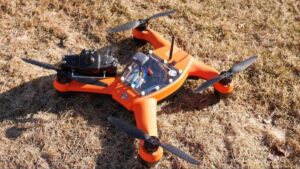 Pearson, the publishing and education company, has announced that it is partnering with the Ocean Alliance and the Olin College of Engineering to help sponsor a project that aims to aid in the study of whales without interfering with the animals or disrupting their normal activities.
The Ocean Alliance has developed specialized drones – nicknamed "SnotBots" – that fly well above the water's surface and collect samples of blow from whales without causing any stress or injury to the animals. The samples are then analyzed by scientists to gather data on the health and well-being of the whale. The project was conceived by the Ocean Alliance and Olin College of Engineering and has garnered a lot of social media attention and support.
The partnership was sparked by the interest of two of Pearson's renowned science authors, Dr. Kenneth Miller and Dr. Joseph Levine. They were intrigued with the idea of collecting important scientific data while doing no harm to the animals. Once they found out how the SnotBot project was going to advance the study of whales and heard it needed some financial support, they agreed to get Pearson on board with a sponsorship.
"Once in a while, dedicated people catalyze positive change in unexpected ways. And every now and then, out-of-the-box thinking creates a new use for existing technology with the potential to transform our understanding of the living world. The folks at the Ocean Alliance and their collaborators at Olin College are dedicated people, and their "SnotBot" project has the potential to revolutionize our understanding of whales and, by extension, the marine environments in which they play a crucial role," said Dr. Joseph Levine.
In response to the partnership, Dr. Roger Payne, Founder and President of the Ocean Alliance, had this to say. "We can only protect what we understand and understand what we are taught. As a world leader in providing educational tools, we are excited that Pearson Education is helping us to develop and deploy new tools for wildlife research and conservation. Pearson continues to lead the way – for that, we and thousands of students worldwide are very grateful."