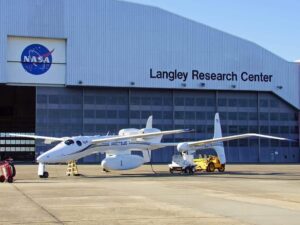 Locata Corporation, a developer of terrestrial positioning networks, has announced that NASA plans to install a Locata network (LocataNet) as the core positioning technology for safety-critical Unmanned Aerial Systems (UAS) research at its world-renowned Langley Research Center in Hampton, Virginia.
NASA Langley is tasked with performing rigorous and repeatable scientific evaluation of new UAS safety and technology concepts which are currently under development. The LocataNet will provide the vitally important high-precision non-GPS-based positioning, navigation and timing (PNT) that is essential for this work.
"Locata is proud and delighted to have received an order for NASA's first LocataNet," said Nunzio Gambale, Locata CEO. "Globally significant installations like this prove Locata's new technology is delivering unprecedented levels of performance to many important new applications. As our technology rollout begins to gain pace, the exceptional value Locata brings to next-gen mobile apps has attracted interest from players all over the world."
NASA Langley, established in 1917 by the US National Advisory Committee for Aeronautics, is the oldest of NASA's field centers and well known for its long history of aeronautics research. Locata's centimeter-accurate positioning will assist NASA in developing and improving flight-critical technology systems that support air transportation safety, efficiency and performance. Langley's extensive state-of-the-art facilities will be further enhanced with the installation of this LocataNet.
"Our team is savoring the opportunity to work alongside NASA engineers and we're excited that Locata will help advance the safety-critical performance of Unmanned Aerial Systems," Gambale continued. "This NASA development is just one more example of an unstoppable technology wave now driving the automation and fully-autonomous control of next-gen systems. Almost all future mobile devices or machines – be they on the road, in the air, on a mine site, in a port, in a warehouse, in your mobile phone, or part of the inevitable Internet of Things – all of them are critically dependent on pervasive, reliable, high-accuracy positioning. Locata is being leveraged into these next-gen systems because it's clear that satellite-based solutions alone can no longer deliver what's required. Soon, as we bring miniaturized Locata transmitters and receivers to market, our innovations will enable even greater advances in cutting-edge consumer, commercial, and government applications."
The NASA LocataNet is scheduled to be installed and commissioned before the end of 2015. Locata will supply the LocataLite Transmitters and Locata Receivers required by NASA for the installation at Langley. Aviation-quality Locata antennas, developed by Cooper Antennas (UK) and previously used by the USAF in their pioneering military LocataNets, will also be installed. Locata engineers will support the physical installation, on-going training and the future technical support required by NASA Langley.