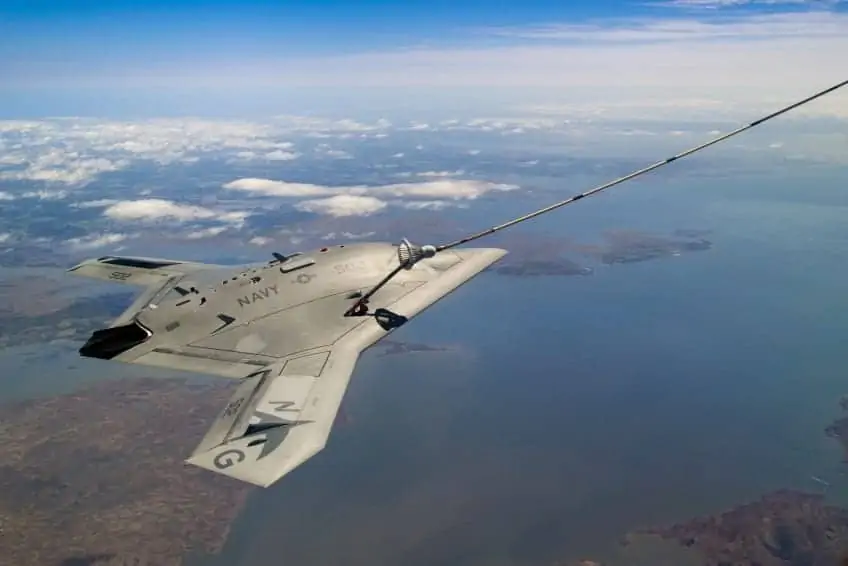 Northrop Grumman Corporation and the U.S. Navy have announced that they have successfully demonstrated fully autonomous aerial refueling (AAR) with the X-47B Unmanned Combat Air System Demonstration (UCAS-D) aircraft, marking the first time in history that an unmanned aircraft has refueled in-flight.
This is another historic aviation milestone for the X-47B, which was also the first unmanned aircraft to autonomously launch from and recover aboard an aircraft carrier. In combination, these landmark demonstrations constitute a major step forward in autonomy that has application in both manned and unmanned aircraft. Autonomous launch, recovery and refueling have the potential for reducing operational costs in the future.
"AAR testing with the X-47B helps solidify the concept that future unmanned aircraft can perform standard missions like aerial refueling and operate seamlessly with manned aircraft as part of the Carrier Air Wing," said Capt. Beau Duarte, the Navy's Unmanned Carrier Aviation program manager.
During the probe and drogue (or "Navy-style") AAR demonstration, the X-47B performed a close formation flight rendezvous with an Omega K-707 tanker. Upon clearance from the tanker crew, the X-47B maneuvered into position behind the K-707 and successfully engaged the drogue. On completion of the refueling, the X-47B autonomously disengaged the drogue and maneuvered away from the tanker before returning to base.
"We are very pleased with the outcome of this first round of probe and drogue flights with the X-47B," said Pablo Gonzalez, UCAS-D program manager, Northrop Grumman Aerospace Systems. "The AAR system and X-47B both performed as expected. While we would certainly benefit from additional probe and drogue flight testing, we have reached a tipping point at which AAR is now feasible."
Northrop Grumman began developing AAR technology for both Navy and Air Force application nearly a decade ago, pioneering a "hybrid" approach that integrates both GPS and infrared imaging to enhance navigational precision and hedge against GPS disruption. Initial UCAS-D flight testing began in 2012 using a manned Learjet as a surrogate for the X-47B. These successful proof-of-concept flights demonstrated the overall feasibility of the X-47B AAR system and helped refine its navigation, command and control, and infrared sensor processing components.