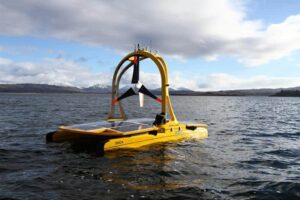 SeeByte, the global leader in creating smart software for unmanned maritime systems, is pleased to announce that Phase 1 of a contract awarded by the Small Business Research Initiative (SBRI) has been completed following a successful demo. The work seeks to provide a flexible Autonomy Framework for the range of oceanographic and environmental scenarios outlined in the SBRI AAOSN call.
An on-water demonstration of the MAF (Maritime Autonomy Framework) integration onto the ASV C-Enduro was held in Stokes Bay, Gosport. The event was attended by senior military personnel and members of the maritime scientific community. Attendees were briefed on the use of MAF, and how it is facilitating the expansion and technology cross-over between maritime security and marine science. The framework has a wide range of applications from oil spill detection to autonomous tagged fish tracking behaviours.
The project, funded by the Natural Environmental Research Council (NERC), Innovate UK and the Defence Science and Technology Laboratory (Dstl), aims to provide an open software tool-set and user interface that will enable improved use of autonomous systems for scientific research. Using SeeByte's SeeTrack Neptune, which already forms the basis of the UK Maritime Autonomy Framework (MAF), autonomous maritime systems will be able to adapt and change to the external environment and mission requirements. The initial target platform is ASV's C-Enduro vehicle managed by the UK's National Oceanography Centre.
SeeTrack Neptune is an adaptive planning tool for optimising the execution of AUV operations. It supports high-level goal-based mission descriptions and allows the matching of mission requirements against vehicle capabilities. SeeTrack Neptune also includes behaviours capable of adapting the mission based on changes in the environment, assets and mission objectives; benefits which will be useful for future unmanned operations.
Find out more at Ocean Business 2015 in Southampton, booth V1.