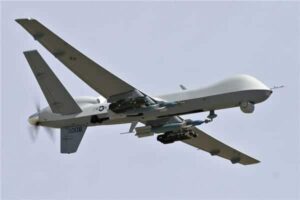 The US State Department has announced that it has approved a possible Foreign Military Sale to the Netherlands for MQ-9 Reapers and associated equipment, parts and logistical support for an estimated cost of $339 million. The Defense Security Cooperation Agency delivered the required certification notifying Congress of this possible sale today.
The Government of the Netherlands has requested a possible sale of:
4 MQ-9 Block 5 Reaper Remotely Piloted Aircraft
4 Mobile Ground Control Stations Block 30 (option Block 50)
6 Honeywell TPE331-10T Turboprop Engines (4 installed and 2 spares)
2 SATCOM Earth Terminal Sub-System
6 AN/DAS-1 Multi-Spectral Targeting Systems (MTS)-B
4 General Atomics Lynx (exportable) Synthetic Aperture Radar/Ground Moving
Target Indicator (SAR/GMTI) Systems, w/Maritime Wide Area Search capability
2 Ruggedized Aircraft Maintenance Test Stations
20 ARC-210 RT-1939 Radio Systems
8 KY-1006 Common Crypto Modules
8 Ku-band Link-Airborne Communications Systems
4 KIV-77 Mode 4/5 Identification Friend or Foe
4 AN/APX-119 Mode 4/5 Identification Friend or Foe (IFF) Transponder (515 Model)
14 Honeywell H-764 Adaptive Configurable Embedded Global Positioning System/Inertial Guidance Units (EGI) with Selective Availability Anti-Spoofing Module (SAASM) (12 installed and 2 spares)
Also provided are an Initial Spares Package (ISP) and Readiness Spares Package (RSP) to support 3400 Flight Hours for a three-year period, support and test equipment, publications and technical documentation, personnel training and training equipment, U.S. Government and contractor engineering, technical and logistics support services, and other related elements of logistical and program support.
This potential sale will enhance the intelligence, surveillance, and reconnaissance (ISR) capability of the Dutch military in support of national, NATO, UN-mandated, and other coalition operations. Commonality of ISR capabilities will greatly increase interoperability between U.S and Dutch military and peacekeeping forces.
The Netherlands has requested this capability to provide for the defense of its deployed troops, regional security, and interoperability with the U.S. The proposed sale will improve the Netherlands' capability to meet current and future threats by providing improved ISR coverage that promotes increased battlefield situational awareness, anticipates enemy intent, augments combat search and rescue, and provides ground troop support.
The principal contractor will be General Atomics Aeronautical Systems, Inc. in San Diego, California.