Orbital Corporation's "Argon" ECU (Electronic Control Unit) under development with the support of the Australian Federal Government ANMP (Automotive New Markets Program) grant has successfully carried out its first on-engine testing. This is a major milestone in the development of the ECU, as all prior testing and validation has been bench testing.
The Argon ECU, a specialised light weight ECU being developed for generic UAS (Unmanned Aircraft System) application, is the latest and most feature capable design in Orbital's FlexECU range, with the following features:
– Latest technology in downsized electronic components
– Unmatched level of features for its size
– Redundancy on all critical systems similar to manned commercial aircraft
– 'Black box' flight recording capable
– Complies with strict Military specifications.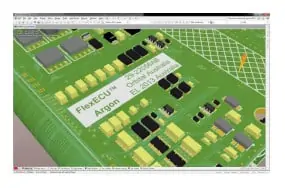 The production Flex Argon ECU will weigh less than 150g, suitable for UAS application where weight is critical as this defines either payload capability or range.
Design, development and validation of the ECU, carried out at Orbital's Balcatta, WA, facility, utilises where possible Australian supplied components and assembly.
The Argon ECU will be a key part of Orbital's "Redback" Engine and Engine Management Systems portfolio for UAS application.