A cooperative experiment that has been on-going for about a year between French electricity distribution network operator ERDF (Electricité Réseau Distribution France) in the "Sillon Rhodanien" region and Survey Copter, a subsidiary of Cassidian, aims to define and develop UAV usage for the inspection of medium-high-voltage aerial power lines. The use of specially dedicated UAVs will enable the operators of ERDF to obtain directly usable data, more regularly and at less cost, on the condition of the networks (conductors, pylons) and to visualise and model interference with vegetation, for scheduling of maintenance and tree-pruning operations. This cooperation, which until now has been tested in the Drome and Ardèche départements, should lead to the deployment of a Copter 4 UAV from Survey Copter during the course of 2014. With an all-up weight of about 30 kilos, the Copter 4 offers a range of about 50 kilometres and can stay in the air for about two hours.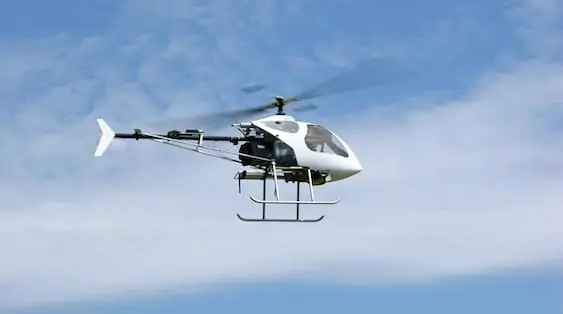 This type of mission is also of particular importance in the event of major meteorological events or climatic hazards leading to fallen power lines. The speed of diagnosis and rapid detection of the affected areas is a key element in restoring power. The use of a DVF 2000 UAV from Survey Copter allows rapid inspection of the aerial lines, with identification of any damage, as well as the condition of the road infrastructures allowing access to the damaged lines.
ERDF and Survey Copter cooperation on the choice of UAV for this type of mission will also lead to a rise in the number of automated operations, offering a solution that is technically and economically far more competitive.
"Rapidly obtaining extremely precise images of locations that are often inaccessible, thus speeding up repairs and restoration of the networks following meteorological events, is a real need for ERDF and our collaboration with Survey Copter would seem to demonstrate that UAVs give a clear edge in this sector. The purpose of the experiments currently under way is to validate the feasibility and economic conditions of this innovative technique," states Claude Dubreuil, Deputy Director of ERDF for the Sillon Rhodanien region.
"The aim of our cooperation with ERDF is to implement real industrial solutions able to meet the need for inspection not only of the aerial lines, but also of other electricity production infrastructure: dams, nuclear power plants, wind farms, photovoltaic plants, etc. The variety of our UAVs and the sensors we can install on them means that we can address all these requirements. The roadmap we have established with ERDF will enable us to develop and then gradually deploy these solutions, involving other partners so that eventually a complete service can be provided, including not only data collection by the UAV, but also its post-processing and formatting. Our vision is a global one and ERDF will need robust partners for the long term; Survey Copter and Cassidian have both the capacity and the desire to become these partners," adds Jean-Marc Masenelli, CEO of Survey Copter.