YellowScan sat down with UnmannedSystemsTechnology.com to discuss the benefits of their UAV LiDAR solutions, how to select the right YellowScan product for your project, and the advantages of their CloudStation software for LiDAR point cloud processing.
​​What are the key challenges typically faced by YellowScan customers?
YellowScan is a leading developer of professional integrated UAV (unmanned aerial vehicle) LiDAR solutions for surveying. A key challenge overcome by our customers is the ability to fly over remote and difficult to access areas. Another is the ability to generate accurate, reliable point cloud data in order to facilitate accurate deliverables; DTM, contour lines, vectorization of buildings, stockpile volumes, and so on. A point raised by customers is that in many countries, where UAVs are well-spread, being in the land survey market without a LiDAR is pointless as other traditional means are not efficient enough anymore.
Could you give details of how YellowScan's solutions have been implemented in commercial scenarios?
Our LiDAR systems have been used in many different scenarios, thanks to the trust our customers have placed in our products. Our systems have been used in archeology, mining, powerline management, avalanche risk detection, rural road monitoring projects and many more.
Taking archeology as an example, our Explorer system was used to map 7 fortified castles that were spread out over 60 kilometers of mountainous terrain, and that were not easily accessible by foot, so traditional archaeologic methods did not make sense for this phase of the project.
A secondary objective of the project was to identify any new archaeological sites that were not previously identified and visible to the naked eye for further research as well as survey the primary 7 sites looking for ruins yet to be discovered. Read full details here.
The Mapper drone LiDAR sensor was used last year by the University of Vermont Spatial Analysis Lab (UVM-SAL) to quantify the effects of climate change. They achieved this by documenting tree damage caused by the caterpillar of the gypsy moth, an invasive species that can devastate forest canopies. The YellowScan Mapper's easy-to-use workflow, and quick training that UVM-SAL received, was critical to the mission's success. Read full details here.
YellowScan has an extensive product range, what is the best way to approach selecting a YellowScan LiDAR system for unmanned aerial applications?
The first criteria when selecting a LiDAR system, must be the accuracy expected. You generally don't need a 1cm-accuracy when creating a DTM, but you probably will for surveying facades or archaeological monuments.
Then comes the range selection of the main application: trees above 30m high, or 40-storey building ? This will impact the flight height for the operations, and therefore will give you a better idea of which of our systems fits your needs. Only after will you need to find the best compromise between density and productivity.
What are the advantages of using YellowScan's CloudStation software for LiDAR point cloud processing?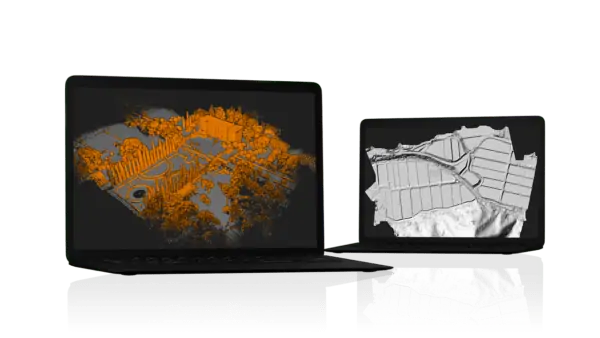 The feedback we've received from our customers is that the CloudStation software is very intuitive, very user-friendly and that there are barely more than a few clicks to generate the final point cloud.
They have also said that the additional modules can improve the precision of the generated point cloud, or the interpretation of the area (automated colorization without any tie points to manually select, or ground classification).
We strive to improve the use of computer resources to minimize the processing time, by optimizing the CloudStation algorithms between releases.
What sets YellowScan apart in the unmanned field and how do you see your solutions evolving in 2022 and beyond?
At YellowScan, we are committed to creating products that are easy to use, ready to work, and most of all, that are reliable. Understanding the market and listening to our partners is important to us in order to release the right product at the right time.
Our ecosystem is based on three pillars:
Our compact turnkey hardware with embedded batteries that are designed, built and supplied ready to operate.
Our proprietary software, the YellowScan CloudStation, with its user friendly and evolving interface.
Our committed Customer Support team, delivering complete training to our customers upon receiving their systems, as well as a 1 year unlimited technical support to enable our customers to confidently undertake their projects, whether they are new or experienced in the field.
Last year, we introduced to our portfolio our first long range, multiplatform system, the Explorer, which was very much welcomed by our customers. This year has already been a busy one for us, with the release of the Surveyor Ultra integrating the Hesai laser scanner at the beginning of the year, and the upcoming release of a new LiDAR with a RIEGL integration. We are quite proud of our team for their hard work.
YellowScan will be showcasing LiDAR solutions for unmanned surveying at XPONENTIAL 2022 from 25th to 28th April at booth 1143.