OxTS has released a case study explaining how Australian geospatial innovation company, Klau Geomatics, used the OxTS Georeferencer alongside their Novatel navigation system to boresight and georeference LiDAR data.
---
Australian geospatial innovation company, Klau Geomatics, was in need of a flexible software solution to help them boresight and georeference LiDAR data with NovAtel navigation data. The solution needed to fit seamlessly into their workflow as it would form part of a wider mapping payload that Klau Geomatics would subsequently sell onto their customers.
Klau Geomatics wanted to develop an aerial surveying and mapping payload that allows their customers to generate accurate 3D pointclouds of a particular environment. To complete the payload, Klau Geomatics needed a software solution that would help them 'bridge the gap' between their LiDAR and navigation data. They turned to OxTS to help them create a solution that would allow them to georeference LiDAR data using non-OxTS navigation data.
Who is Klau Geomatics?
Klau Geomatics is an Australian geospatial technology and services company based out of Nowra, New South Wales. They have been building positioning systems for drones since 2014.
Working closely with their customers, Klau Geomatics develop bespoke geospatial data capture solutions aligned to their individual requirements. Whether this is designing and building a custom sensor payload for a drone, a vehicle-mounted mobile LiDAR scanner, or developing a complete mission planning to data delivery project, Klau Geomatics has the expertise to help.
What was the overall aim of the project?
The products Klau Geomatics offer range from low-cost drone-based solutions to complex, sophisticated manned aircraft mapping systems. They also develop sensor payloads for manned, land-based vehicles. Drones however, have brought aerial mapping and photogrammetry into focus as powerful tools for surveyors.
While drones are effective surveying tools for small areas (up to 10 sq km), they become less viable at a larger scale. On the other hand, while manned aircraft mapping can handle large areas, it comes with significant overheads such as expensive sensors, fleets of aircraft, and high mobilisation costs. These systems are therefore not cost effective at smaller scales (less than 100 sq km).
Klau Geomatics aims to close this gap and make quality data acquisition accessible to professionals irrespective of the size of the area they need to survey.
To do this, Klau Geomatics began a project to develop their own mobile LiDAR scanning product. They wanted to include two high-quality cameras for photogrammetry, and a LiDAR sensor. The product needed to include both hardware and software components that worked seamlessly together to produce accurate pointcloud data. It was important that the finished product had a balance of quality, accuracy and ease of use. Klau Geomatics also wanted to give their customers a choice of LiDAR sensor to suit all budgets and project needs.
Although the focus of the project was to produce an accurate aerial LiDAR system, Klau Geomatics realised that they could use the knowledge they gained during the project to simultaneously develop a vehicle-mounted, mobile LiDAR scanning product. It transpired that a system, mounted on a car roof, actually provided the right test configuration to refine the accuracy and quality of the data produced.
By driving the system it could be easily tested with different LiDAR sensors, at different speeds, through complex environments, with different positioning methods (NTRIP RTK and Terrastar-C Pro), over test patches with published coordinates on ground targets.
Customer experience and usability were also key factors during the development phase. The project team wanted to deliver a solution that not only produced quality results for Klau Geomatic's aerial mapping customers, but was also simple and straightforward to use without compromising the accuracy of the final pointcloud.
To determine success, the final product needed to enable agile equipment deployment, fast data turnaround and high accuracy outcomes. Accurate pointcloud data capture with fast production was also essential.
Challenges
There were a number of significant challenges for Klau Geomatics to overcome. One was of a commercial nature and the others technology based.
LiDAR is now a key geospatial technology and many surveyors see LiDAR as an important tool in their armoury. With LiDAR becoming more accessible, low cost and in many cases low precision, airborne LiDAR products are beginning to flood the market. This has subsequently driven the average price of a system down.
The commercial challenge therefore for Klau Geomatics was to create a mobile LiDAR system that sat in between the low-cost, low quality drone-based systems on the market, and the high-cost, high-quality yet complex manned aircraft systems.
The team at Klau Geomatics responsible for developing the solution is a small, agile team of hardware and software experts that are experienced users of GNSS, IMU, INS and LiDAR technology – particularly NovAtel hardware. As all of the team's experience was NovAtel based, they made the decision to develop a solution based on NovAtel navigation technology that worked with multiple LiDAR sensors (Riegl, Hesai and others).
This presented them with two new challenges. Firstly, they had to work out a way to calibrate (boresight) the coordinate frames of the navigation device and LiDAR sensor and secondly georeference the LiDAR data to enable them to create a pointcloud. Failure to align the coordinate frames of the navigation and LiDAR devices accurately would have a knock on effect that could lead to pointcloud blurring and 'double-vision'.
As the Klau Geomatics project team is a relatively small team of experts, this presented a major challenge due to the complexity of developing an in-house solution. Although the knowledge was there, the required man-hours it would take to develop a solution meant it wasn't a viable option to tackle the project alone.
To further complicate matters, the finished product needed to fit many different aircraft without further engineering. These included Cessnas aircraft and various helicopters.
Solution
Klau Geomatics quickly decided that to enable their project to move forward at the pace they required, they would need to engage with another company who had experience with georeferencing and the calibration of high precision INS and LiDAR sensors.
Klau Geomatics were aware of OxTS through various publications and webinars and they reached out to understand how we could help.
The challenges that Klau Geomatics faced came at an interesting time for OxTS. In the past, OxTS' boresight calibration and georeferencing software only worked with OxTS navigation data. However when Klau Geomatics made contact this approach was changing and moving to a new model.
Klau Geomatics were using a NovAtel GNSS/INS device alongside a LiDAR sensor and couldn't move away from the NovAtel device because of the experience they had built up using it.
Products used
OxTS Georeferencer

OxTS Georeferencer is a software tool developed by OxTS to combine INS navigation data with raw LiDAR data. It can be used alongside any INS and many LiDAR sensors to create a georeferenced pointcloud.
OxTS Georeferencer takes a file collected with a LiDAR scanner, a processed navigation trajectory file and some required configuration files to create a LAS pointcloud file that can be viewed in many third party LiDAR software packages.
Boresight Calibration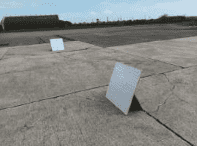 The OxTS boresight calibration tool is an optional extra within OxTS Georeferencer.
The tool allows users of OxTS Georeferencer to finely calibrate the coordinate frames of their LiDAR and INS devices. This calibration eliminates blurring and 'double-vision' from pointclouds.
The process involves surveying two retroreflective 'targets'. The software then uses the data to align the coordinate frames of the devices precisely.
Klau Geomatics had chosen NovAtel as they are recognised as a high quality hardware provider, with a proven track record. The NovAtel Terrastar-C Pro correction service provides very high absolute accuracy regardless of location and the size of project or range to base station data.
For manned aerial mapping this removes constraints such as RTK range limitations or PPK post processing base station challenges. Terrastar-C Pro with NovAtel SPAN and ALIGN give high quality trajectory and orientation data, which OxTS Georeferencer uses to produce high accuracy pointcloud results.
Once the project was underway, OxTS worked with Klau Geomatics to support both NovAtel INS data and their various supported LiDAR scanners. The end goal being to enable the production of highly accurate pointclouds. These pointclouds were to be used to either complement the aerial images in photogrammetry processing or as a stand alone product.
Klau Geomatics quickly realised that by using the boresight tool within OxTS Georeferencer they could bring their product up to a functional level. Then on producing data, they could use the software to generate a 'real world' pointcloud.
Before receiving the test version of OxTS Georeferencer Klau Geomatics had built a payload that included multiple scanning devices. Once they received the licence they began testing.
They initially tested the boresight calibration feature. By surveying two static 'targets', at varying angles and speeds, the project team was able to use the data they collected to align the coordinate frames of the NovAtel GNSS/INS device, and their chosen LiDAR sensor, to a tenth of a degree. The calibration survey could be completed in minutes and the data processed in OxTS Georeferencer at the touch of a button.
Once Klau Geomatics had boresighted their set-up, and as long as the devices weren't repositioned, they didn't need to perform the calibration again and could perform as many data collections as required.
Klau Geomatics quickly realised that using the boresight tool within OxTS Georeferencer would bring their own product up to a functional level, then on producing data, they could use the software to generate a 'real world' pointcloud.
The cost of the software also needed to be factored in. To enable Klau to stick to their original plan of building a system that sat in between the low cost / low precision drone systems, and the high cost / high precision manned aircraft systems, it was important for them that the cost of OxTS Georeferencer wasn't prohibitive.
In fact, Klau Geomatics were pleasantly surprised with both the cost and the simple, straightforward yearly licensing model on offer.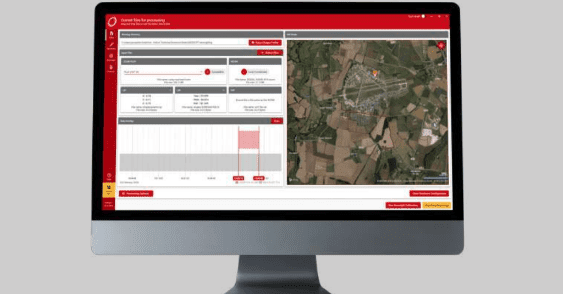 Results
Being able to accurately boresight their NovAtel and LiDAR system has enabled Klau Geomatics to focus their attention on other factors such as increasing absolute accuracy.
In fact, the accuracy of the boresight calibration tool within OxTS Georeferencer highlighted a previously unknown issue for Klau Geomatics. It helped them realise that the LiDAR sensor they were using for data collection was 'noisy' and not well suited to the high accuracy, geospatial work their customers would be using the systems for.
They therefore decided to try another brand of sensor that they also supported. Once the sensor was changed, Klau Geomatics quickly obtained better results which further validated the quality of OxTS Georeferencer and their decision to change sensor.
"Klau Geomatics has built its success on NovAtel to date. We will continue with this philosophy in collaboration with OxTS who has helped us overcome some of our most difficult sensor calibration challenges." – Rob Klau, Director – Klau Geomatics
Once Klau Geomatics had developed levels of confidence around the basic configuration and integration, it took them even less time to boresight their system. This led to the project team being able to spend even more time on other important areas such as coordinate systems and geoids – improving accuracy even further.
Without an accurate boresighting solution, Klau Geomatic's system wouldn't have been able to produce usable data, prior to the post-processing and georeferencing stage of. the workflow. By engaging with OxTS, Klau Geomatics was able to drastically speed up the development phase of their project and ensure the rapid roll-out of other aspects of their product.