Gremsy PE Ecosystems Drone Gimbal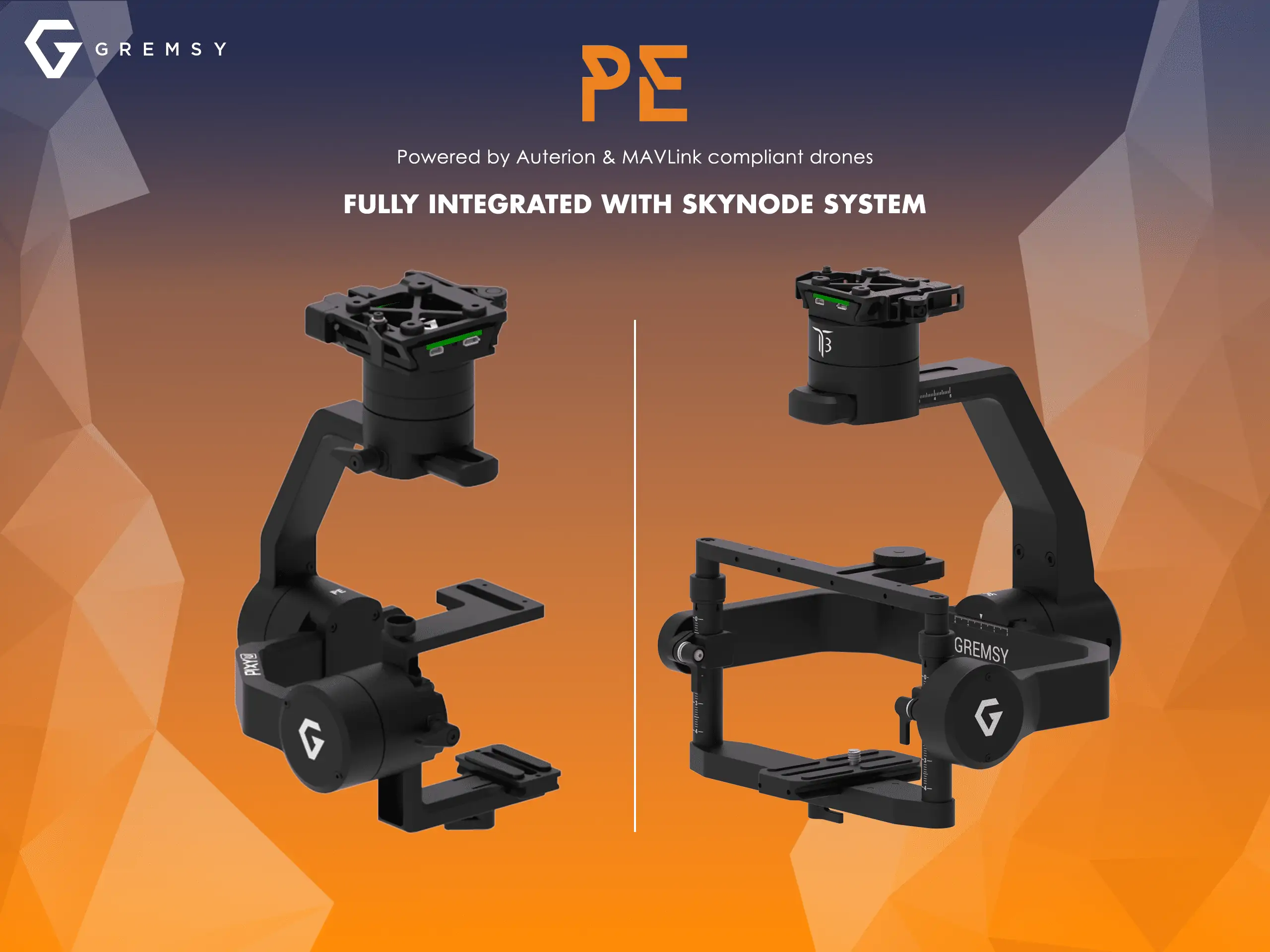 Gremsy PE is purpose-built for an effortless integration with Auterion & Mavlink compliant drones. With its ease of deployment and simple operation, the new lineup is a perfect enterprise-ready solution. Adhering to the Pixhawk Payload Bus standard, Gremsy PE is equipped with a new quick-release operating on a sliding mechanism, helping PE gimbals plug and play with most Pixhawk-based platforms, including Skynode, Pixhawk, and Cube.
In collaboration with Auterion, we create Gremsy PE for seamless integration with Skynode system. Now it's your turn to deploy fully advanced Auterion's drone ecosystem capabilities for industrial missions.
Specifications:
T3 PE
Pixy PE
Dimensions (H x W x D)
270 x 237 x 184mm (gimbal)
120 x 152 x 100mm (camera cage)
183 x 112 x 145 mm (gimbal)
70 x 100 x 65.5 mm (camera cage)
Weight
2.23 lbs (1.01 kg)
1.04 lbs (0.47 kg)
Maximum Payload
3.7 lb (1.7kg)
1.03 lbs (0.465 kg)
Maximum Controlled Rotation Speed
Pan axis: 180°/s
Tilt axis: 180°/s
Roll axis: 180°/s
Pan axis: 100°/s
Tilt axis: 100°/s
Roll axis: 100°/s
Mechanical Endpoint Range
Pan axis control: ± 345°
Tilt axis control: ± 150°
Roll axis control: +80° to -264°
Pan axis control: ± 330°
Tilt axis control: +135° to -45°
Roll axis control: +45° to -90°
Controlled Rotation Range
Pan axis control: ± 345°
Tilt axis control: ± 120°
Roll axis control: ± 45°
Pan axis control: ± 330°
Tilt axis control: +135° to -45°
Roll axis control: ± 45°