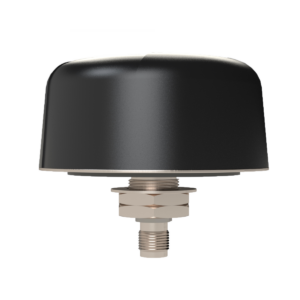 Maxtena has launched a new tactical-grade helical active GNSS antenna, designed to provide concurrent reception of all L1/L2/L5 GPS, Galileo, Glonass, and Beidou bands including L-Band corrections. Featuring enhanced filtering and RF antijamming mitigation capabilities, the M10HCT-TNC is ideal for high-precision multi-frequency robotics and autonomous vehicle applications.
The new antenna is designed to meet MIL-STD-810 requirements and features rugged IP67-rated construction and a compact and lightweight form factor. The M10HCT-TNC is ground-plane independent and offers extremely low power consumption and minimal phase-center variation over azimuth. It also offers an excellent axial ratio, ensuring that multi-path error is mitigated. Several filtering groups provide high-performance filtering capabilities as well as RF antijamming mitigation.
The M10HCT-TNC is designed as a screw-mount unit with a TNC connector, and is also available in two other variants – magnet mount with SMA connector, and embedded.
Vanja Maric, Maxtena's Chief Commercial Officer, commented: "The M10HCT-TNC is a MIL-STD grade, full GNSS L1/L2/L5 active antenna that is optimized across all constellations and features L-band corrections. This antenna is the smallest solution with such a performance on the market. The superb axial ratio and multipath rejection allow it to operate in the most RF-noisy environments. Sophisticated filtering groups allow this antenna to have proprietary RF antijamming mitigation capabilities as it works exceptionally well without a ground plane. We see a trend of higher-accuracy demand across various industries from autonomous vehicles and robotics to military solutions such as unmanned ground vehicles and drones."