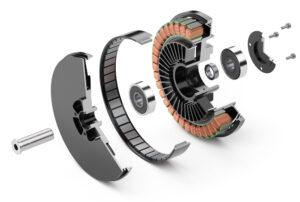 maxon's Unmanned Aerial Vehicle (UAV) propulsion systems consist of Brushless DC (BLDC) motors, Electronic Speed Controllers (ESCs), and propellers built for the utmost safety and efficiency.
UAVs require reliable components and, above all, energy-efficient drives that ensure the longest possible flight time.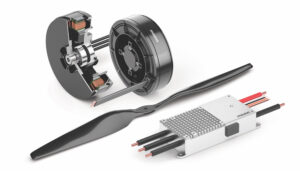 maxon guarantees the highest quality products, processes, and certification in the drone market. The company has been EN 9100 certified (equivalent to AS 9100) since 2012. This standard was created specifically for companies that develop and produce components for the aerospace industry. maxon offers sustainability and stability, combined with efficient configuration management and traceability of parts. All maxon products rely on standardized designs, manufacturing processes and testing, to ensure top repeatability between parts.
Motors
maxon's portfolio of BLDC UAV flat motors consists of outer runner motors with segmented magnets and high-temperature windings. Optimized air flow cooling and lightweight aviation-grade aluminum parts provide excellent performance, designed for extreme durability and maximum reliability in professional UAVs, and also maximum environmental protection and robustness.
ESC
maxon's ESC uses a sensorless closed-loop control algorithm that it claims is unrivalled in the UAV market. Individual calibration and advanced parameter settings ensure optimal Field-Oriented Control (FOC) for each motor, with minimum power losses. The hardware is supported by the intuitive studio software, allowing the operator to commission and monitor relevant parameters and data to find the best setup.
Propellers
The company partners with leading propeller manufacturers to deliver systems where all elements are optimally matched, meaning maxon UAV products are tested and paired with high-quality propellers.
Please contact maxon for more information: [email protected]