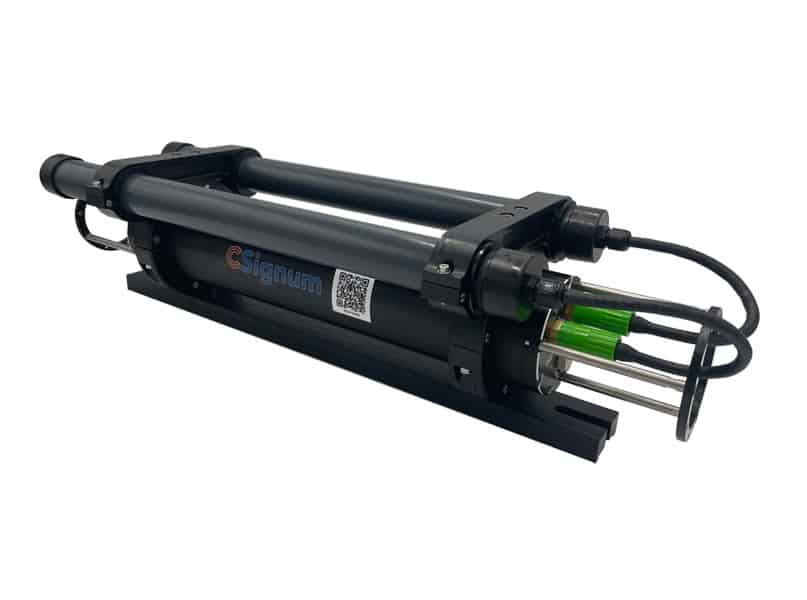 CSignum, a developer of wireless underwater communications solutions, has confirmed the forthcoming commercial launch of its HydroFi Modem. According to CSignum, the low-frequency modem is the the first and only reliable point-to-point wireless radio communications system that enables the transmission of data through the water-air boundary. The system is currently undergoing successful trials for three use cases: AUV (autonomous underwater vehicle) and ASV (autonomous surface vessel) data recovery, ship hull networking, and real-time ADCP data backhaul.
CSignum has successfully transmitted real-time data 28-30 meters from underwater modems to topside receivers connecting HydroFi technology to industry-standard sondes, ADCPs and dataloggers. The HydroFi Modem is complementary to and overcomes the limitations of acoustic, optical and cabled data transmissions.
HydroFi has also been used in an initiative underway at Hess for monitoring, inspecting, and repairing assets using autonomous vehicles in the oil and gas sector, a project that also has promising potential for environmental monitoring. HESS and Ocean Aero have successfully completed initial trials in which a HydroFi Modem deployed on a Triton AUV sent and received information from underwater sensors positioned either on the sea floor or on submerged buoys. The companies are currently exploring how sensors could be further utilized to monitor overall water quality parameters in the future.
"The ability to deliver underwater communications utilizing the HydroFi Modem unlocks exciting opportunities to expand Hess autonomous operations," said Keith Blystone, Chief of Staff at Ocean Aero. "By autonomously collecting and communicating subsurface data wirelessly with the TRITON, we can speed up information gathering for Hess —a nd that means faster decision making."
Working with partners and the HydroFi Modem, CSignum has successfully provided access to real-time wireless data transmissions from the keel of Her Majesty's Yacht (HMY) Britannia, which was decommissioned in 1997 and is now moored in Ocean Terminal in Edinburgh, to topside receivers on multiple decks without the expense and difficulty of fitting cables through the hull to monitor the environment around and under the ship and the ship's condition. Prior to the successful trial, marine vessel operators have had no way to conduct inspections or to "see" what is happening below the waterline of their ships without dive crews, underwater vehicles or bringing vessels into drydock for routine maintenance – an inefficient, expensive and potentially dangerous process. CSignum and its partners are currently evaluating other commercial use cases for underwater-to-air deck use cases in the under-hull domain.
Working with a recognized leader in the field of water quality, CSignum is also trialing a simplified system using the HydroFi Modem that eliminates the need for a cabled link (which can snag and fail due to repeated wave motion stresses) to an ADCP (Acoustic Doppler Current Profiler). In the solution, which is deployed in the Baltic Sea, data are communicated wirelessly for a range of 25 meters from an ADCP modem on the seabed to a second modem with datalogger on a surface vehicle or buoy. The system, which transmits data every five minutes, is planned to be expanded to allow the transmission of corrosion, strain, flow, motion, pressure, pH, sea levels, pollution, climate change and temperature data from seabed to air. This solution is ideal for environmental monitoring and wireless deployment in turbid adverse conditions such as where fresh water and sea water collide, or out in shipping channels where buoys are tough to deploy.
"We are thrilled with the progress we have made in just the last year to bring our patented HydroFi Modem to market and appreciate the partnerships we have with Hess, Ocean Aero, and others, so our solutions are ready for these use cases and others yet to be imagined," said Chris Brooks, CEO at CSignum. "Our ongoing work with sensor manufacturers to ensure sensors, sondes and ADCPs can connect seamlessly with HydroFi technology means we can expect to play a central role in unlocking data collection from below the surface of our oceans, lakes and rivers – providing end-to-end reliable and standardized connections in real time for all subsea IoT devices."
Find suppliers & manufacturers of Underwater Communications Systems & Technology >>