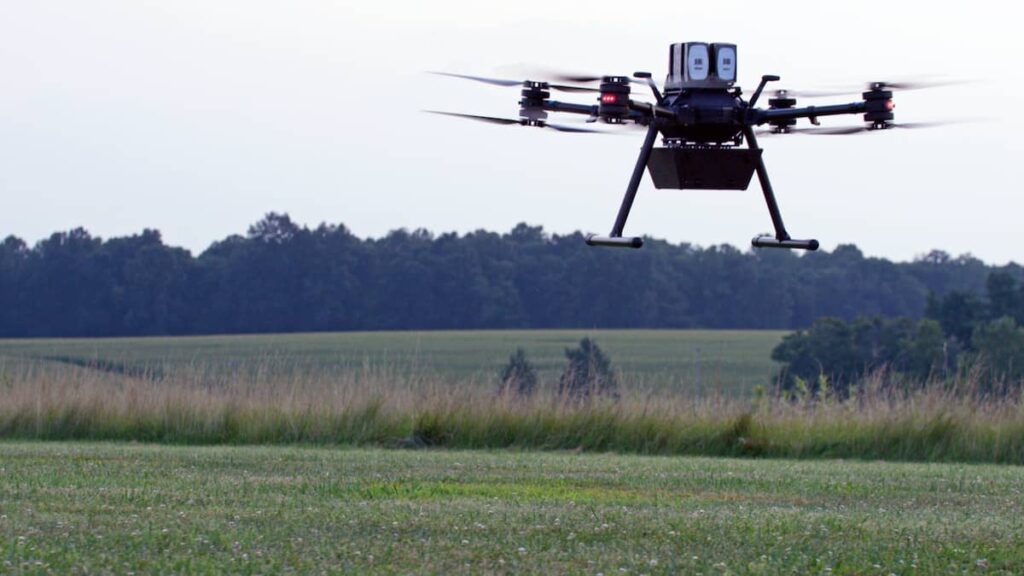 Auterion's Skynode combined flight controller, mission computer and networking device has been incorporated into a new heavy-lift drone developed by Watts Innovations. The PRISM Sky utilizes Skynode to integrate into Auterion's mission planning and flight software suite, providing the platform with broad connectivity and integrated data workflows for a variety of applications including inspection and mapping, spraying, cargo conveyance, LiDAR scanning, and cinematography.
Auterion Suite allows users of the PRISM Sky to monitor fleet health in real-time for reduced risk mitigation, acquire predictive maintenance recommendations based on flight data, and achieve increased efficiency through real-time data delivery and workflow integration from payload to computer, eliminating the manual handling of SD cards. Skynode also brings the drone into full compliance with the National Defense Authorization Act (NDAA), which directs U.S. government and contractor component acquisitions.
Auterion's open ecosystem is providing enterprise customers with greater flexibility and choice. With Skynode onboard, PRISM Sky connects to the open ecosystem software, payloads and workflow integrations. This enables end users to add the heavy lift capabilities of PRISM Sky within their drone fleet without having to change their existing operator experience or workflows.
Bobby Watts, founder and CEO of Watts Innovations, commented: "We're able to provide customers greater functionality and connectivity through the Skynode integration with an NDAA compliant heavy-lift drone alternative to non-NDAA compliant options. In conjunction with Auterion's Suite, the PRISM Sky provides end users with enterprise workflow integration, advanced autonomy, mission planning, live video streams, operations dashboard, flight analytics and cloud-based predictive maintenance."
Lorenz Meier, CEO of Auterion, said: "The growth of the open drone ecosystem, validated by innovative companies like Watts, ultimately provides end customers with the greatest amount of freedom and choice. Since Skynode automatically works with the Auterion software stack, customers do not need to learn an entirely new software system to run the PRISM Sky, adding to ease of use."