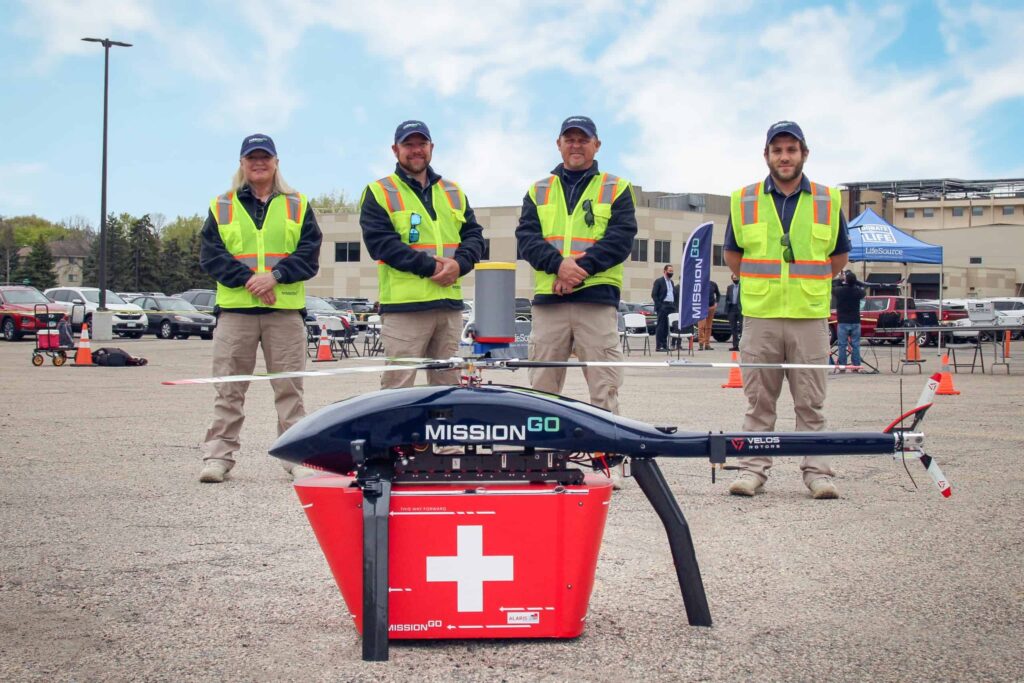 UAS (unmanned aerial systems) solutions provider MissionGO and organ procurement organization LifeSource have carried out the first ever test flight carrying a human pancreas via unmanned aircraft. The organ was transported from Mercy Hospital in Coon Rapids, Minnesota through a 10-mile circuit over the Mississippi River and back to the hospital. The test flight successfully demonstrated the viability and value of transporting lifesaving organs via UAS within the Twin Cities metro area.
The UAS was monitored throughout the flight with the advanced AlarisAIR (Automated Independent Recorder) flight data recorder from AlarisPro, which provides flight telemetry data through both cellular and Bluetooth networks. The pancreas was also monitored for the entire flight, using MediGO's hardware and software platform to provide the real-time location status of the organ, A biopsy was performed by LifeSource on the pancreas before and after the flight to study the impact of UAS transportation on a human organ, revealing no changes in pre and post flight biopsies.
This flight follows three previous tests conducted with a drone. As part of a University of Maryland research project, MissionGO piloted the delivery of the first kidney by UAS that was then successfully transplanted into a patient. The company also partnered with the Nevada Donor Network organ procurement organization to complete two test flights transporting research corneas and a research kidney.
This inaugural pancreas flight helped evaluate the use of UAS specifically in the Midwest region. With recent changes to FAA regulations and MissionGO's progress certifying their MG Velos 100 UAS, the team is well positioned to integrate UAS organ delivery for LifeSource and Allina Health soon, both from donor to transplant hospital and to Minneapolis-St. Paul (MSP) International Airport for transport to other parts of the country.
Susan Gunderson, LifeSource Founder & CEO, commented: "LifeSource has set an audacious goal of transplanting 1,000 organs in one year by 2027; last year, we facilitated 603 transplants. Organ transplant is a race against time; this is one of many transformative solutions to help us save more lives."
Frank Paskiewicz, MissionGO Executive Vice President for UAS Cargo Operations, said: "The future is here – there's a demand in the market for innovative and sustainable solutions in the commercial and medical industry. MissionGO is here to prove that unmanned aircraft are a reliable mode of transportation for precious cargo. LifeSource and Allina Health have been incredible partners that are pioneering new solutions for the organ transplant industry."
Robert Quickel, MD, vice president clinical service line, surgical procedural administration for Allina Health, stated: "Organ transport by an unmanned aircraft is an incredible innovation for health care. These test flights are an inspiring step in overcoming obstacles and increasing the number of viable, life-saving organs that our transplant patients so desperately need."
Scott Plank, CEO and Co-Founder of MissionGO and MediGO, explained: "MissionGO is focused on unmanned aircraft operations, while MediGO is dedicated to improving organ transplant and hospital logistics through just-in-time delivery. MediGO is an important part of MissionGO's medical cargo operations and is the only company monitoring all modes of transportation for medical deliveries. Together, MissionGO and MediGO are taking organ logistics innovation into the future."