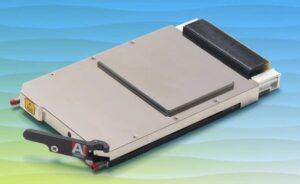 Aitech has expanded its SOSA-aligned product offerings with the U-C5300, a 3U VPX multi-head graphics board featuring NVIDIA GPUs based on the Turing architecture. The rugged board is ideal for UAV (unmanned aerial vehicle) and autonomous systems applications requiring intense video processing and high data computation, such as artificial intelligence (AI), video analytics, motion detection, and image classification, location and segmentation.
The board has been designed to align with the SOSA Technical Standard, with new features including support for a SOSA payload profile pinout and a +3.3AUX/+12V power supply, and optional additional RS-170 video output as well as conduction-cooling. Based on Aitech's existing C530 GPU-based SBC, the U-C5300 operates as a peripheral board with a compatible x86 VPX host SBC, connected to the host SBC over the VPX backplane, via a high speed PCIe Gen3 link of up to 16 lanes. Four independent video graphic video ports each support resolutions of up to 1600×1200 at 60 Hz.
The U-C5300 is available with an NVIDIA Quadro RTX 3000 or the NVIDIA Quadro T1000 GPU, depending on the needed performance-per-watt. The use of multi-layered artificial neural networks and the GPUs' ability to concurrently execute floating point and integer operations give the board a distinct performance advantage over non-GPU accelerated architectures. The NVIDIA Quadro RTX 3000 GPU enables processing of up to 5.3 TFLOPS (FP32), while the Quadro T1000 GPU features 2.6 TFLOPS (FP32) of data processing with a lower power consumption.
The U-C5300 can be bundled with Aitech's U-C8770, a SOSA-aligned SBC (single-board computer) that features an advanced, hardware-based cybersecurity infrastructure and is ideal for rugged embedded systems applications that need to comply with the Modular Open Systems Approach (MOSA) outlined by the US Department of Defense (DoD). Aitech's growing SOSA-aligned portfolio is designed to support the DoD ecosystem approach, which enables smooth integration from project development to field deployment.
Pratish Shah, General Manager USA for Aitech, commented: "Contributing to the SOSA initiative is two-fold. As an industry, we not only need to align our products to the technical requirements put forth, but also bring advanced functionality to military embedded systems. The U-C5300 provides better access to real-time video processing, enabling more intelligent AI-based systems that enhance awareness on the battlefield."