The keystone event for the ASEAN geospatial community, Geo Connect Asia (GCA) will be held in Singapore this year in a prototype hybrid format, as the ASEAN economies recover from the impact of the pandemic. Geo Connect Asia 2021 will comprise both a physical event on 24th and 25th March 2021 at the Marina Bay Sands Expo & Convention Centre, as well as a virtual Geo Connect Asia 2021 for delegates and visitors to meet in person and online. The event is expected to welcome close to 1,000 business visitors, delegates and speakers onsite, and up to 1,200 additional virtual attendees.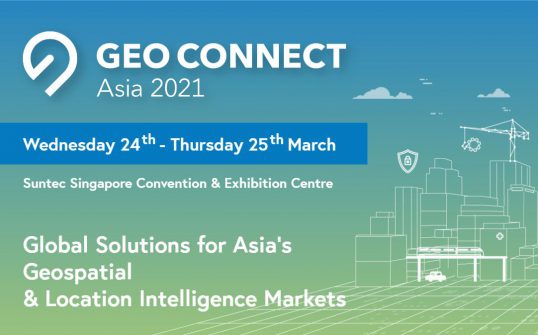 Southeast Asia's highly anticipated flagship geospatial and location intelligence event, Geo Connect Asia 2021 will also be the first large-scale hybrid event of the year in Singapore, following the successful pilot of TravelRevive in November 2020. GCA 2021 is piloting the 'hybrid event' prototype developed by the Singapore Together Alliance for Action (AfA) on Enabling Safe and Innovative Visitor Experiences under the Emerging Stronger Taskforce (EST).  
Geospatial technology and solutions integral to a sustainable recovery
The Geo Connect Asia 2021 Conference themed "Mapping the data-driven future economy," will be led by high-level speakers and thought leaders from across the global geospatial industry. The event will provide a strategic and collaborative platform for industry professionals, government agencies, start-ups and more, through a diverse agenda of keynote addresses, plenary sessions, and roundtables. The first plenary session of the Geo Connect Asia 2021 Conference will examine how geospatial solutions can support ASEAN economies in mounting a sustainable recovery from the pandemic. Titled, "Geospatial Planning & Solutions; the Key to a Robust & Sustainable Recovery", the session will be moderated by Ng Siau Yong, Director, Geospatial & Data Division & Chief Data Officer at the Singapore Land Authority (SLA), and features a keynote speech by Hwang Yu-Ning, Chief Planner & Deputy Chief Executive Officer of the Singapore Urban Redevelopment Authority (URA). 
Through various strategies such as a 'green recovery', building epidemic-resistant smart cities, and improving infrastructure across geographies, geospatial technology and solutions could help Singapore and other countries successfully recover from the pandemic – with Geo Connect Asia playing a crucial role at the heart of the ASEAN geospatial community. A 'green recovery' will reduce emissions, with low-carbon economies to providing more jobs and clean growth, reversing the effects of high-carbon infrastructure. For instance, transitioning to renewable energy, building electric vehicle charging networks, remodelling cities to make them easier to walk and cycle, planting trees and building flood defences are all necessary for a move to a low-carbon economy, and all are labour-intensive – thus providing jobs and aiding in economic recovery from Covid-19. 
During the pandemic, cities focused on digital communication tools and upskilling of workers as working from home became the norm. Moving forward, smart cities must look towards cloud and infrastructure optimization, as-a-service deployments and data analysis to help drive forward-looking decisions and future-proof a city against the next pandemic. Improving infrastructure will also be crucial to recovery from the pandemic, particularly in the ASEAN region. 
This will require the wider adoption of smart and digital solutions, including geospatial and location intelligence. Indeed, geospatial technologies and solutions may be even more critical to the emerging economies of ASEAN, as supply chains may break down with country- and economy-wide lockdowns.
Other key topics at the GCA 2021 Conference include:
On the Move: Smart Transportation for Asia's Dynamic Urban Landscapes

Digital Twins: Transforming the Dynamics of Connected Infrastructure Planning

Easily Accessible Data for the Future of Geospatial Planning

Building resilience and sustainability into ASEAN geospatial planning

Harnessing the power of satellite imagery for a sustainable future

Smarter Infrastructure for Sustainable Cities

Sustainable and Liveable Cities

Putting 5G to Work: Intelligent Use Cases for ASEAN