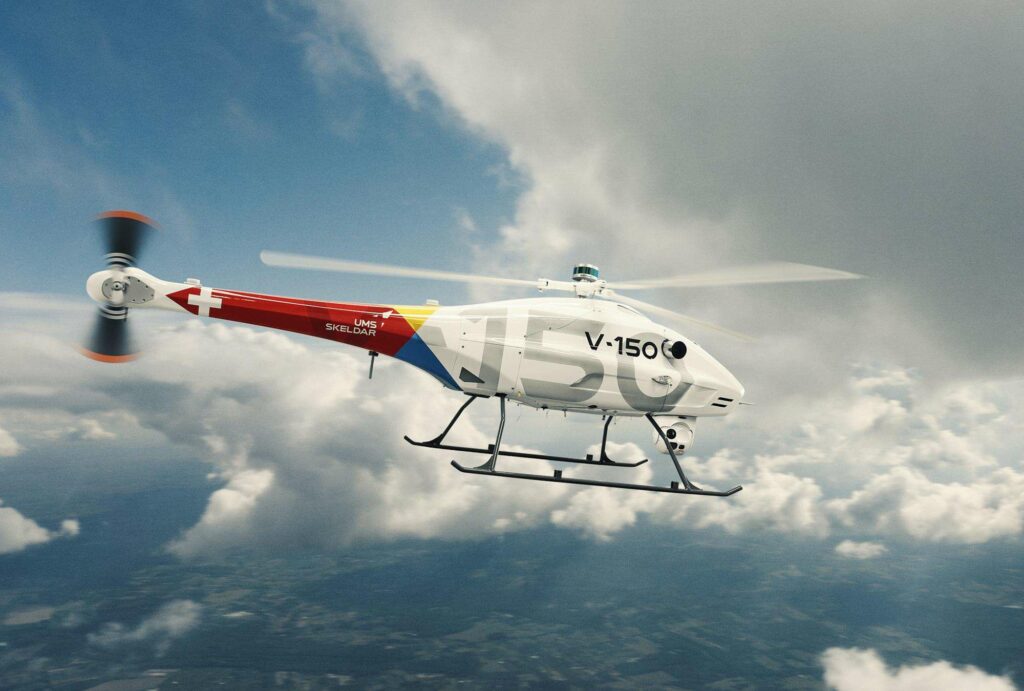 UMS SKELDAR has successfully achieved remote automatic flight with its V-150 VTOL (Vertical Take-Off and Landing) UAS (unmanned aerial system) platform. The flight, which was a world first and a major milestone for both the company and the unmanned aircraft, was performed across multiple continents, with the aircraft itself based in Switzerland and observed by team members onsite.
To achieve this capability, the V-150's software was enhanced to make the platform fully automatic as well as to allow a person not present at the Remote Pilot Station (RPS) to safely and remotely control the unmanned helicopter from thousands of kilometres away. UMS SKELDAR will now be able to provide remote product demonstrations to prospective customers across the globe and give them the opportunity to fully test the system without needing to travel. This capability is particularly useful under the current climate of extended flight restrictions.
UMS SKELDAR's flight demonstrations can incorporate a wide variety of mission simulation scenarios. The demonstrations will also provide Intelligence, Surveillance and Reconnaissance (ISR) operations remotely to the customer, with applications in search and rescue, border patrol, energy, and military sectors.
David Willems, VP Business Development and Strategy for UMS SKELDAR, commented: "This development will open new doors for UMS SKELDAR as it enables us to provide cost-effective demonstrations to customer prospects who otherwise would not be able to experience a live flight of the system."
"Unlike other demonstration capabilities, we are not just presenting the customer with the chance to take-off and go in circles. Instead, the V-150 will perform a simulated mission with various events taking place in the background. This is exciting because we are advancing traditional flight demonstrations and incorporating many new elements that will maximise the customer experience, even from thousands of kilometres away."