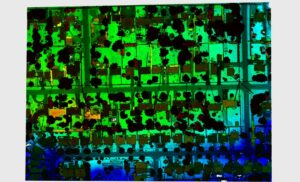 Teledyne Optech has introduced the CM2000, the latest addition to its Galaxy family of LiDAR sensors for UAVs (unmanned aerial vehicles) and other airborne platforms. The new sensor is specifically designed for corridor mapping, with its true measuring rate of up to 2 million points per second giving it the ability to image objects such as electric wires and conductors, distribution power poles, railway signs and cellular tower antennas in fine detail. The CM2000 can also detect fine changes in the ground over time, making it ideal for applications such as pipeline monitoring.
The CM2000 features an adjustable field of view that allows users to tailor the system to the exact width of their corridor and concentrate the laser measurements on their precise target. Combined with the high measurement rate, this provides a data resolution that enables advanced analytics, insights, and decision making.
According to Teledyne Optech, the Galaxy CM2000 has the smallest laser footprint in the market, allowing complete detection of towers, transmission and distribution wires and attachment points on power poles. The system also includes built in roll compensation that corrects for turbulence experienced by the UAV, maintaining a constant swath width on the ground.
Malek Singer, Airborne Product Manager at Teledyne Optech, said: "The true advantage of the Galaxy CM2000 is its ability to improve the mapping of the infrastructures that we all rely on every day – including the electric grid we count on for power, or the roads and rail we depend on for safe travel. This is accomplished by providing an astounding level of detail via true 2 million points per second straight to the ground and a small laser footprint that allows for the modelling of complex targets like electric towers and distribution wires."