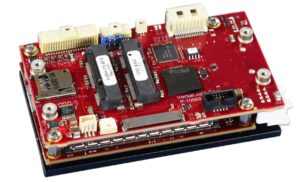 VersaLogic has released Harrier, a new SWaP (size, weight and power)-optimized embedded computing system based around Intel's latest 5th generation Apollo Lake Atom processor and featuring soldered-on error-correcting code (ECC) memory. The system also includes a TPM 2.0 security chip, on-board power regulation, USB and Ethernet I/O ports, and Mini PCIe expansion sockets.
The Harrier is available with up to 8GB ECC memory, making the system ideal for use in space and near-space environments where single bit memory errors may occur due to cosmic ray interactions. Measuring just 55 x 95 x 29 mm, the Harrier is also designed for SWaP-constrained unmanned vehicles in all environments, including drones, unmanned ground vehicles (UGVs) and unmanned underwater vehicles (UUVs). The rugged embedded platform has been tested for full industrial temperature (-40 to +85 degrees C) operation and meets MIL-STD-202H specifications for shock and vibration. It can also be used reliably even with fluctuating or noisy power sources, thanks to its on-board power regulation.
The Harrier includes a built-in TPM 2.0 security chip that provides hardware-level security for secure log-ins, encrypted data storage, file protection and similar applications. On-board I/O includes dual Gigabit Ethernet, one USB 3.0 and four USB 2.0 ports, and two serial ports. A SATA interface, eMMC Flash, mSATA slot, and a microSD socket provide a range of data storage options. Dual Mini PCIe sockets accommodate plug-in A/D, Wi-Fi modems, GPS receivers, MIL-STD-1553, Ethernet, FireWire, and other mini cards.
VersaLogic offers a range of customization services for the Harrier to suit OEM needs and users' unique application requirements. These include conformal coating, revision locks, custom labeling, and customized testing and screening.
Len Crane, VersaLogic President, commented: "With its ECC memory, the Harrier is ideal in environments where memory errors may occur due to cosmic ray interactions, which increase dramatically at altitude. Applications such as High Altitude Long Endurance (HALE) UAVs and High Altitude Pseudo Satellite (HAPS) systems present a considerable challenge related to memory errors. The Harrier is available with up to 8 GB of Error Correcting Code (ECC) memory to address this risk in any critical application."
Find suppliers of Embedded Computing boards for unmanned applications >>