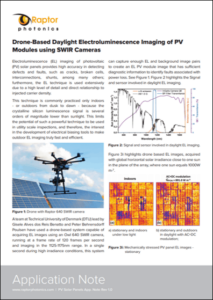 Raptor Photonics has published an application note explaining how its SWIR (short-wave infrared) cameras can be used in drone-based electroluminescence (EL) imaging of photovoltaic (PV) solar panels. This imaging process provides detailed high-accuracy detection of defects and faults in the panels, such as cracks, broken cells, interconnections and shunts.
Download the full application note here
EL imaging is normally only undertaken either indoors or between dusk and dawn outdoors, due to the fact that the luminescence signal of crystalline silicon, which PV panels are constructed from, is several orders of magnitude lower than sunlight. This makes it difficult to capture outside of low-light conditions, and so limits the efficiency and potential of EL imaging for large-scale utility inspection.
A team at Technical University of Denmark (DTU) equipped an unmanned aerial system (UAS) with Raptor Photonics' Owl 640 SWIR camera, running at a frame rate of 120 frames per second and imaging in the 1125-1175nm range. This system was able to capture enough EL and background image pairs during high irradiance conditions to obtain diagnostic information that can be used to identify faults associated with PV module power loss.
The team concluded that the process requires further refinement of the algorithms, but shows great promise as a technique for inspection of PV modules on a solar farm during daylight hours.
To find out more about Raptor Photonics' Owl 640 SWIR camera and electroluminescence imaging of solar panels, download the full application note here.