Seafloor Systems, a leading developer of specialized turnkey hydrographic survey solutions and unmanned surface vessels (USVs), has partnered with Unmanned Systems Technology ("UST") to demonstrate their expertise in this field. The 'Gold' profile highlights how their fleet of USVs, equipped with state-of-the-art complex payloads, can be used for a wide range of survey applications, scenarios, and environments.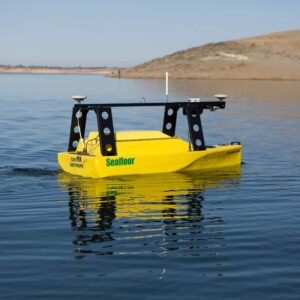 The EchoBoat-240 is an advanced remote-controlled and autonomously operating USV designed for the highest-resolution marine survey applications requiring high stability even under rough conditions. With powerful twin brushless DC outdrive motors and a payload capacity of 90 kg/200 lbs, the EchoBoat-240 can field state-of-the-art sensor suites for any requirements imaginable without sacrificing performance.
The highly versatile USV features multi-payload capacity and easily interchangeable sensor suites, and can be equipped with survey-grade single beam, multibeam, and side scan sonar systems. The vessel's mounting well is designed around leading models including the Teledyne SeaBat T50/T20, the R2Sonic 2024, or the Norbit iWBMS-STX.
The USV can be monitored within line-of-sight range, and can be upgraded with additional hardware to enable over-the-horizon monitoring. All data is stored via an onboard PC with a direct cable connection, and a remote data link provides full equipment control and data acquisition. The USV can be easily switched from autonomous to remote control via a long-range remote control unit (RCU) that can operate at distances of up to 2km.
The two-person transportable vessel can be launched from a trailer or cart, or from a manned survey boat via a davit. It is ideal for standalone operations or as a force multiplier for a crewed vessel, operating either in the shallows or alongside the main boat.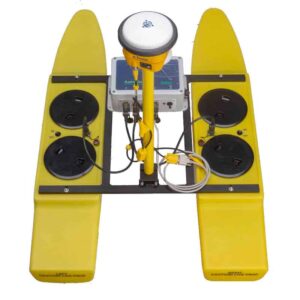 The HyDrone is a one-person portable catamaran survey vessel that can be remotely controlled or powered by Seafloor Systems' AutoNav USV autopilot for autonomous operation. The lightweight, rugged vessel provides easy access to remote or hazardous areas, and is easily disassembled for transport and shipping.
The vessel can be monitored and controlled at long range in both manual and autonomous modes, and can carry out missions of over eight hours at 3 knots on a single battery bank. The HyDrone is controlled via intuitive Mission Planner software that runs on a laptop and communicates via a radio telemetry link.
The HyDrone can be equipped with a variety of payloads, including ADCPs and single beam, multibeam and side scan sonar systems. It is particularly suited to Seafloor Systems' HydroLite Portable Echosounder kits, which provide high-accuracy depth measuring and logging for professional hydrographic survey applications.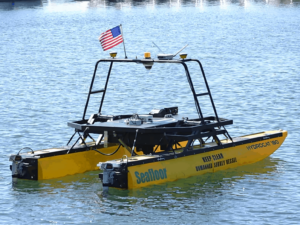 The HydroCat-180 is a rugged 18-foot catamaran USV featuring individually articulated hulls, a gimballed deck, and dual-actuated electric motors. Designed for fully autonomous hydrographic surveys, it can carry up to 700 lbs of payload and provides a mission endurance of 8 to 12 hours.
The HydroCat-180 can be equipped with a wide variety of high-resolution survey payloads, including single- or dual-head multibeam echosounders, HD cameras, LiDAR and sidescan sonars.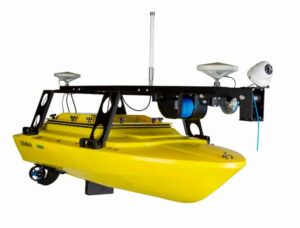 The EchoBoat-160 unmanned survey vessel is a smaller version of the EchoBoat-240, featuring the same autonomous and remote-control capabilities, as well as long survey endurance and flexible payload swapping.
The EchoBoat-160 can be customised to individual user requirements, with selected pre-installed sensor payloads such as single beam, multibeam, and side scan sonar, or set up to interface with existing systems from a survey equipment pool. Seafloor Systems can also develop customized cabling that allows the vessel to utilise a variety of GPS, GNSS and RTK positioning systems.
To find out more about Seafloor Systems and their unmanned surface vessels for hydrographic surveys, please visit their profile page:
https://www.unmannedsystemstechnology.com/company/seafloor-systems/