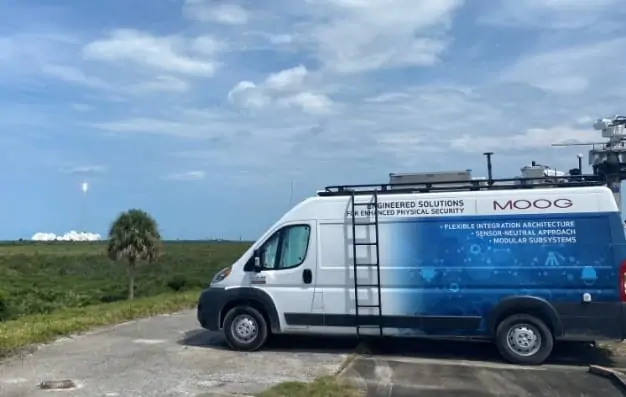 Moog's Space and Defense Group has provided its Gauntlet counter-UAS (unmanned aerial system) technology in aid of NASA drone detection trials taking place in the FAA (Federal Aviation Administration)-restricted airspace around launch pads 39A and B of Kennedy Space Center. Rogue drones operating in this airspace could present significant threats both to humans and to high-value equipment and mission payloads.
Gauntlet is a mobile 360-degree counter-UAS system consisting of a layered network of components that detect, track, identify and defeat unmanned aerial vehicles. The different detection layers include both passive (radio frequency and acoustic) and active (3D radar) sensors, and non-reliance on a single technology provides the system with a high degree of versatility.
Gauntlet can be connected over a secured VPN network, and enhances visibility and alerts authorities to all drone activity that would otherwise be unobservable by conventional security means. It provides evidence capture and retention capabilities similar to physical security cameras, and is often employed as part of larger solutions to protect civilians, law enforcement, and other high-value assets at Special Event Assessment Rated (SEAR) events.
The Gauntlet system has been deployed at Kennedy Space Center for several launches and operates continuously in all weather conditions. During these deployments, it has provided detection, identification and tracking of numerous drone incursions, some NASA sanctioned, over a significant area. Results from this demonstration will provide inputs to a future, cooperative, interagency drone detection capability.
Christopher Fedele, Sensor and Surveillance Systems Director for Moog Melbourne, FL operations, commented: "As America returns to the manned space-launch business, it is an honor to support our Space Coast neighbors in addressing the evolving threat of unmanned aerial systems. With many years in the surveillance integration business, Moog is positioned to meet drone detection requirements across any landscape with customizable, scalable, sensor-agnostic solutions."