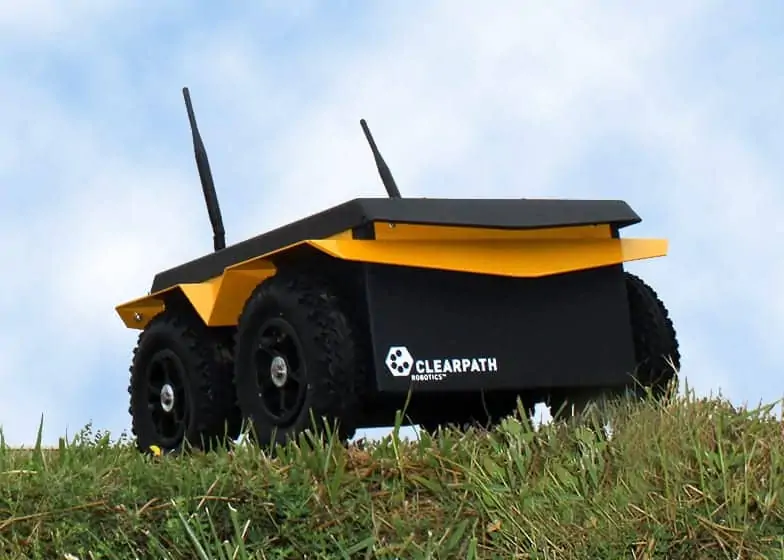 Clearpath Robotics has announced support for Windows on its unmanned ground vehicles (UGVs), giving the ROS community more choice and flexibility when developing robotic systems with the company's products. Support is initially available for Clearpath's Jackal UGV, with more to follow.
The Robot Operating System (ROS) is an open-source platform that provides robotics developers with tools and libraries to help them build complex robots. Prior to May 2019, it was only available on Linux-based systems, and since then engineering teams at Clearpath and Microsoft have worked together to bring support for ROS on Windows 10 IoT Enterprise and Windows 10 Desktop to Clearpath robots.
Windows offers various benefits which are applicable to robotics scenarios. Firstly, Windows provides multilayered security advances that protect deployments, detect anomalies and remediates issues through its enterprise-grade Windows security framework. Secondly, with Windows 10 IoT Enterprise and Azure IoT, users can take full advantage of cloud computing by offloading processes to the cloud or using cloud intelligence at the edge, for live decision making and autonomy. Finally, developers can utilize the same familiar toolsets and developer environments like Visual Studio or Visual Studio Code with extensions for ROS to expedite application development on ROS.
Clearpath robots that run Windows will offer the same user experience as Ubuntu-based systems, and will be shipped with ROS on Windows pre-installed and configured, allowing users to get started quickly right out of the box.
Julian Ware, General Manager of Clearpath Robotics, commented: "In bringing Windows and Azure into the ROS ecosystem, Microsoft has created a set of powerful, supported tools for robotics development. We have been proud supporters of ROS for over 10 years and we're very excited to work with Microsoft to help bring this new functionality to the ROS developer community."
Joe Coco, Partner Group Program Manager at Microsoft, said: "Clearpath Robotics has been a supporter of ROS on Windows from the day Microsoft announced the proof of concept at ROSCon 2018. With ROS on Windows reaching a critical mass of supported packages, Clearpath is able to offer their solutions to customers who need Windows. Microsoft's Azure and Windows customers are increasingly looking to autonomous mobile robots to improve efficiency, improve working conditions, maintain business continuity and increase social separation. With this partnership, customers can now use Clearpath's robotic development platforms with Windows 10 and Azure IoT solutions."