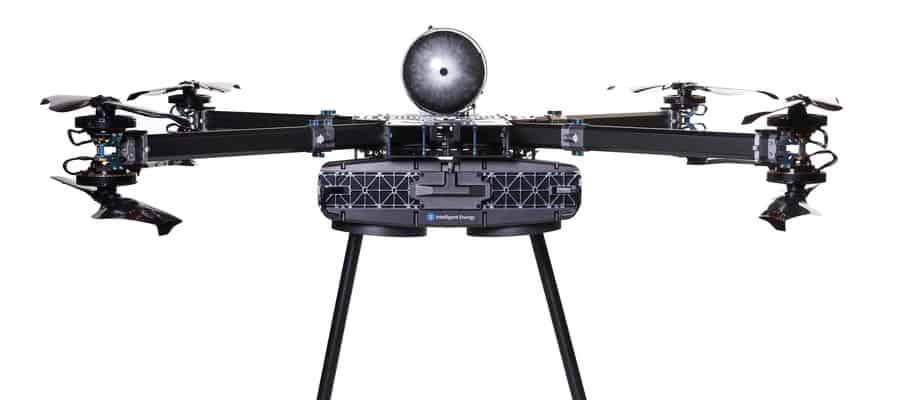 Intelligent Energy has agreed a deal with UAV (unmanned aerial vehicle) development company RoboDEX Inc. for the distribution of Intelligent's drone fuel cell power modules in Japan.
Intelligent Energy's lightweight, power-dense Fuel Cell Power Modules are ideal for a wide range of commercial UAV applications, and in particular as a solution to the current issue of endurance for drone-based parcel delivery and inspection services. Intelligent Energy fuel cells achieve three times the flight duration compared to batteries and their lightweight design means they can lift larger UAVs and carry heavier payloads.
RoboDEX, which specialises in the design and development of commercial UAVs, has designed UAV solutions specifically around Intelligent Energy's modules and was selected as one of the first customers to receive early shipments of Intelligent Energy's new 2.4kW Fuel Cell Power Module. As part of the new distribution agreement, the company will also offer technical and integration support for the Power Modules as well as operational support as part of a complete drone solution service for the Japanese market. RoboDEX has previously hosted a demonstration flight event at Fukushima Robot Test Field in Japan to showcase Intelligent Energy's 800W Fuel Cell Power Module integrated onto a DJI M600 drone.
Lee Juby, Chief Sales Officer at Intelligent Energy, commented: "Having worked with RoboDEX for more than a year now, we are confident of the service they will be offering to the Japanese market. They recognise our fuel cells are the only real solution for achieving longer commercial flight times, and in turn, the integration expertise they have demonstrated over the past year has proved that they are the right business to support our commercialisation efforts in Japan."
As an example of achievable flight time, Juby explained: "A retrospectively fitted 2.4kW mounted onto a DJI M600PRO frame with a 9 litre 300Bar hydrogen cylinder could achieve a flight time of over 80 minutes, compared to just 20 minutes with its battery power pack."
Daisuke Kaio, Representative Director at RoboDEX, said: "We are very pleased to work with Intelligent Energy under our distribution agreement and we will now be looking to develop together the market for fuel cell powered UAVs here in Japan."
"Over the next two years we will introduce various types of UAV integrating Intelligent Energy's 2.4kW Fuel Cell Power Module. Initially we plan to target the Japanese logistics industry. We believe our UAVs coupled with Intelligent Energy fuel cell power will greatly improve the way UAVs are used in industry."