Triad RF Systems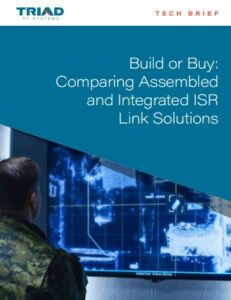 , a designer and manufacturer of high power radios and RF/microwave amplifiers, has released a technical article comparing the use of turnkey ISR (intelligence, surveillance, and reconnaissance) link solutions with bolt-on amplification systems. Unmanned systems used for ISR, such as unmanned aerial systems (UAS), unmanned ground vehicles (UGV), and unmanned surface vehicles (USVs), often require high throughput, long-range radio links and ultra-reliable command and control connectivity over long distances regardless of the environment or weather.
Read the full technical article on Triad RF Systems' website
The article includes details of:
Increasing an ISR link's RF power with a bi-directional amplifier (BDA), and optimising RF margins
Hazards of bolt-on ISR link solutions
Difficulties in troubleshooting with bolt-on BDA integrations
The advantages of integrated high-power radio modules
High-power radio modules are a robust method of successfully providing high power radio links for unmanned systems, eliminating costly and time-consuming integration and troubleshooting. To find out more, read the full technical article on Triad RF Systems' website.