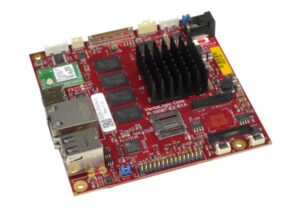 VersaLogic Corporation has announced that it has launched a new model of the company's Swordtail family of production-ready ARM-based embedded computers. The new model is available with either a NXP i.MX6 Quad (quad core) or i.MX6 DualLite (dual core) processor, and includes on-board Wi-Fi, Bluetooth, a NimbleLink Skywire socket for plug-in cellular radios, as well as 8 GB of soldered-down eMMC Flash for use as a bootable on-board storage medium.
The compact 95 x 95 mm computer board is designed for operation in harsh environments, and is rated at full industrial temperature range (-40° to +85°C) and meets MIL-STD-202H specifications for impact and vibration. The integrated Wi-Fi, Bluetooth and cellular communications capabilities make it ideal for demanding rugged robotics and unmanned systems applications that need to transmit maintenance or diagnostic information over a wireless connection.
All Swordtail models feature a variety of I/O ports, including wireless interfaces, Gigabit Ethernet with network boot capability, USB 2.0, serial I/O (RS-232), CAN Bus, and I2C interface. In addition, MCOTS versions can accommodate up to 32 GB of on-board flash storage.
Like other VersaLogic products, the Swordtail is designed for long-term availability with a 10+ year production lifecycle. Models can be modified for custom user applications in quantities as low as 100 pieces.
Len Crane, President of VersaLogic, commented: "Unlike ARM-based modules, VersaLogic's Swordtail is a complete board-level computer. It does not require additional carrier cards, compion boards, connector break-out boards, or other add-ons to function. It is a production-ready embedded computer."
Find suppliers of Embedded Computing boards for unmanned applications >>