VersaLogic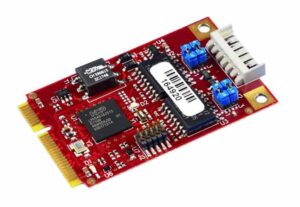 , a provider of embedded computing systems for OEMs of unmanned aerial vehicles (UAVs), unmanned ground vehicles (UGVs) and other autonomous vehicles, has announced the launch of the C1 Dual Channel CAN Bus expansion board.
The rugged Mini PCIe board is designed to provide easy addition of high-speed CAN Bus ports to any embedded computer systems, and is especially suited to harsh environment applications. The C1's extremely small form factor also makes it ideal for SWaP (size, weight and power)-optimized applications.
The C1 supports CAN-FD and very high speed signaling (up to 5 Mbps) and is also fully backwards compatible with CAN 2.0 A and CAN 2.0 B with signaling up to 1 Mbps. Numerous CAN functions including message acceptance filter and listen-only mode can be used. The C1 also supports the high level CANopen protocol, which standardizes communication between devices and applications from different manufacturers and was developed for embedded systems used in automation, making it ideal for drones and robotics.
The C1 provides 2.5 kV of signal isolation to protect the host computer and increase system resilience. Fully tested thermal management assures reliable operation over the full industrial temperature range (-40° to +85°C). Latching connectors and MIL-STD-202H shock and vibration testing ensures performance in the most demanding conditions.
The C1 is compatible with a variety of popular operating systems such as Linux and Windows and is supported by the VersaLogic Application Programming Interface (VersaAPI). Example C code is provided to speed initial software development time. The board is designed for high reliability and long-term availability (10+ year typical production lifecycle).
The C1 is customizable even in low OEM quantities, with options including conformal coating, revision locks, custom labeling, and customized testing and screening.
Len Crane, VersaLogic President, commented: "Customers can now easily add high-speed CAN ports to any embedded systems with reliable, full performance operation even in industrial temperature applications (-40° to +85°C)" said "This tiny Mini PCIe expansion board takes thermal management seriously. It will run at full speed across the full industrial temperature range."
Find suppliers of Embedded Computing boards for unmanned applications >>