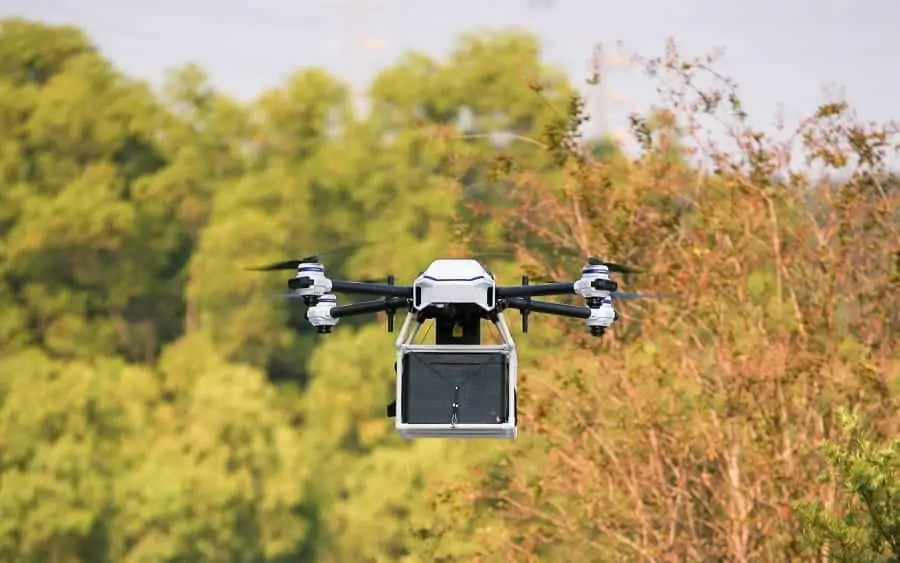 Airbus and XAG have announced that the two companies have tested their jointly-developed drone cargo service in Guangzhou, China. A select group of users ordered food from a nearby noodle shop through the Drone Cargo WeChat application, and the food was delivered in an insulated box via a drone flight of about 1.6 kilometres that took approximately 5 minutes.
The two companies have been working to develop a Minimal Viable Product (MVP) service to start testing deliveries. The solution is based on XAG's P30 plant protection drone. With a take-off weight of less than 25 kilos, and a payload of up to 4 kilos, the drone flies at an altitude of less than 400 ft at up to 12 meters/second.
The trial aims to validate a highly automated delivery flight from a vendor to a destination and back, across precisely pre-selected pathways. XAG has leveraged its extensive experience in designing, manufacturing, and operating small drones at scale and combined with Airbus' expertise in design, engineering, assembly, and certification of aircraft of various form factors. This trial will create iterative learning feedback cycles for the development of a drone cargo service in China.
Justin Gong, Vice President and Co-founder of XAG, commented: "With 12 years of experience in UAS development and manufacturing, XAG keeps pace with changing demands in the field of agriculture. Agility and innovation are built into our DNA. Partnering with Airbus to explore drone delivery services enables us to learn from 50 years' experience of flying and air safety management. Foreseeing the broad prospect of drone applications, XAG is determined to consistently improve our aerial systems, to better serve residents in both rural and urban areas."
Meng Yu, the first customer to use the trial service, said: "We do not have a company canteen so my colleagues and I order takeaway every day. Deliveries could never be sent upstairs in the past, but this time it just comes to me from the sky right to our roof terrace. My noodles were hot as I like them and it took under 15 minutes. Usually, I had to wait for up to an hour during peak lunch hour and often the food was cold."