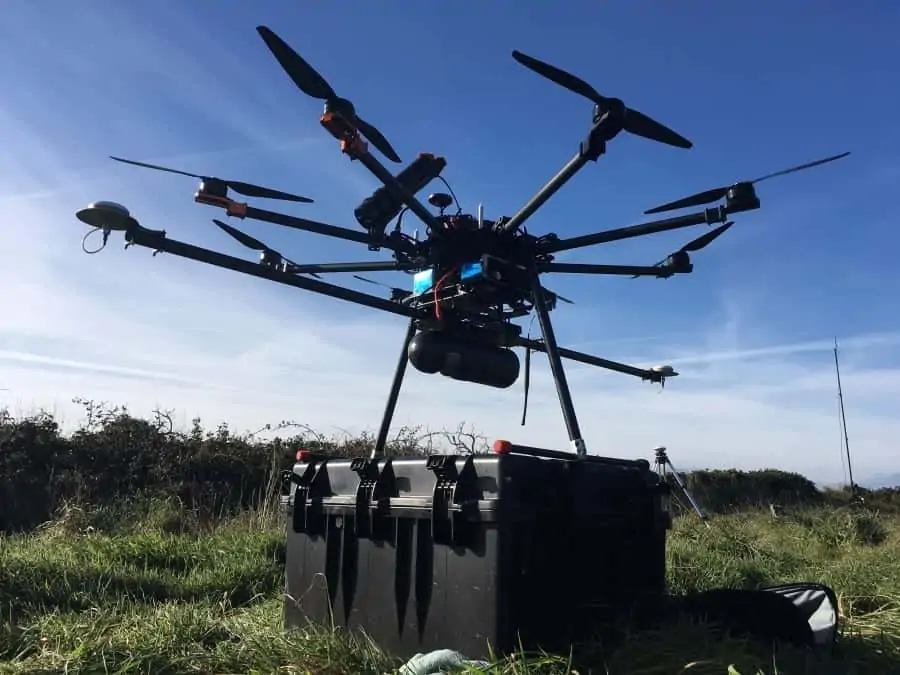 Routescene, a developer and manufacturer of integrated 3D mapping solutions for UAVs (Unmanned Aerial Vehicles), has announced that the company's UAV LiDAR system has been used by aerial data specialist Flythru in order to conduct a survey of World War II sites on the island of Alderney.
Alderney, a British crown dependency, was home to Sylt, a German SS concentration camp, during the war. The camp and nearby graveyard Longy Common were chosen for investigation based on records from a German War Graves Commission investigation from 1960. The investigation was carried out by Caroline Sturdy Colls, Professor of Conflict Archaeology and Genocide Investigation at Staffordshire University, and her team.
Flythru's drone used Routescene's LidarPod, an array of sensors that includes the Velodyne HDL32 LiDAR scanner. With a scan rate of up to 1.4 million points per second from 32 different lasers angled in a 40-degree field of view, this sensor enables high resolution vegetation penetration. This helped the team uncover ground features which are not easily visible from the ground or are obstructed by thick vegetation.
The LiDAR data was immediately processed onsite after the drone landed, using Routescene's LidarViewer 3D processing and visualisation software. With the new Bare Earth Tool, the team quickly and easily removed all the non-ground points to reveal the surface below, and produced a Digital Terrain Model (DTM). The DTM exposed previously undiscovered features that had been completely obscured by vegetation.
The team also used phogrammetry to stitch together hundreds of drone-captured aerial photographs and create an overall three-dimensional model. In addition, Ground Penetrating Radar (GPR), which sends radio waves into the ground and allows artefacts under the ground to be detected, was deployed. Overlaying all the results from the LiDAR, photogrammetry and GPR data resulted in an accurate, highly detailed 3D digital model of the camp, highlighting features of interest both above and below ground for further investigation.
Find suppliers and manufacturers of LiDAR Sensors >>
Michael May from Flythru commented, "We have been using the Routescene UAV LiDAR system, which includes the LidarPod and LidarViewer, for over 3 years now. For applications where we need to penetrate vegetation it has proved to be a valuable tool. The number of laser hits we achieve on the ground is unparalleled with up to 400pts/m2 through thick vegetation. This equipment is ideal to survey sites which are overgrown or woods and forests which are inaccessible using conventional survey methods. Without UAV LiDAR it would have taken weeks to survey the Alderney sites. Due to the thick cover of vegetation it would not have been possible to visually detected the structures we found. With Routescene's system on the UAV we achieved these results in a couple of 15 minute flights."
"When you are on-site you need to visually present results as quickly as possible to establish if you have captured the results you need. We had limited time on-site on this project and needed to quickly assess the findings. The data processing with LidarViewer is so quick and easy you can present data within minutes."
Gert Riemersma, Routescene founder and CEO, said: "We are proud the Routescene system is being used for such historically and socially important work. The system has proven to be ideal due to its' portability and ease of use on such difficult sites. Combined with its' high level of accuracy, ability to penetrate vegetation and process the data on-site is a real advantage."
Professor Sturdy Colls commented: "The LiDAR and photogrammetry UAV surveys that Flythru completed on Alderney assisted us greatly in our research. The overgrown vegetation and the size of the sites that we were investigating made ground based surveys difficult and using UAV was the obvious choice. Flythru were knowledgeable, competent and friendly and explained every step in the process. Health and safety and securing permissions were at the forefront of their approach. The results were better than we could have hoped for. At SS concentration Camp Sylt many additional structural elements were identified in the LiDAR survey that were previously hidden behind dense vegetation. This allowed us to complete, for the first time, a digital reconstruction of this important site."