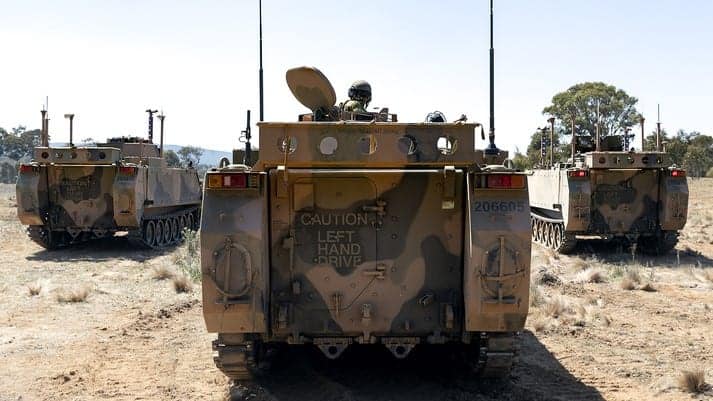 BAE Systems has announced that, in conjunction with the Australian Defence Force (ADF), it has demonstrated fully autonomous armoured vehicles to the Australian Army in a battlefield simulation at the Majura Training Site.
The two unmanned ground vehicles (UGVs) were based on the M113 tracked armoured personnel carrier. The vehicles were modified during a six-month project with hardware and software that enabled autonomous operation and were designed to comply with the rules of engagement, which always require a human operator in the decision-making loop.
The autonomous technologies used to upgrade the M113 vehicles could reduce the need for manpower on the battlefield, enabling unmanned operations such as intelligence gathering and logistics support. These technologies have previously been used in Australian and UK autonomy programs such as Taranis, Mantis, and Kingfisher UAS (unmanned aerial system) demonstrators, as well as the multi-all terrain vehicle (MATV) and Digger unmanned ground vehicle (UGV) demonstrators.
The vehicles will now be used by the Army to experiment with battlefield autonomy as part of its recently released Robotics and Autonomous Systems Strategy. They will also be used to test technology developed by the Commonwealth's recently announced Trusted Autonomous Systems Defence Cooperative Research Centre (TAS-DCRC), which has been set up under the Next Generation Technologies Fund to deliver state-of-the-art autonomous systems that ensure trusted, reliable and effective cooperation between people and machines during military operations.
Gabby Costigan, BAE Systems Australia CEO, commented: "This project highlights our commitment to leading the development of new technologies and collaborating across industry and academia to advance autonomous capabilities. BAE Systems Australia's autonomous systems capability leverages more than three decades of collaboration between BAE Systems Australia and the Commonwealth Government through Programs such as Nulka and Evolved Sea Sparrow Missile (ESSM). Autonomous technologies will support soldier responsiveness in an accelerating warfare environment – increasing their ability to outpace, out-manoeuvre and out-think conventional and unconventional threats."