SteelRock Technologies have unveiled a full range of NightFighter C-UAV effector systems now available with a choice of modular customizable configurations designed for military, civilian and commercial security applications.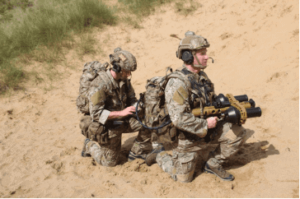 Currently at the UK Capability Showcase at DSEI London, SteelRock Technologies are introducing the expanded NightFighter range which is already deployed within multiple Tier 1 security services sectors.
Designed to counter all types of incursion by rotary and fixed-wing UAVs, NightFighter systems employ highly directional RF communications inhibiting technology alongside advanced proprietary software and hardware, to ground drone threats quickly and safely.
The rugged system comprises a handheld effector with sight, linked to a compact backpack containing electronics controlled via a tablet and intuitive visual interface.
A tactical first response counter-drone effector system, the NightFighter range is:
Extensively tested for safe deployment in complex radio frequency (RF) environments
Capable of deployment in seconds
Designed to the highest military EMC, environmental and safety standards
Highly portable
Field proven
Find suppliers and manufacturers of counter UAS technology >>
"The threats posed by Unmanned Aerial Vehicles (UAVs) to critical infrastructures, civilian assets and on the battlefield are well understood – and they're growing rapidly" comments Rupert English, CEO and Founder of SteelRock Technologies. "NightFighter sets a new benchmark for performance, modularity and flexibility to meet the needs of operators who need a rapidly deployable, highly cost-effective anti-drone solution."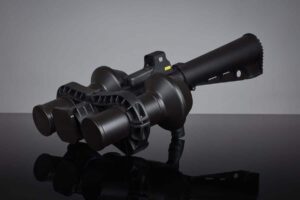 The NightFighter Counter UAV range includes:
NightFighter L (high antenna gain)
NightFighter S (low gain) variants have been demonstrated to be effective against UAVs at ranges in excess of 5km and 2.5km respectively.
NightFighter X a highly portable all-in-one solution that can be body-worn for omni-directional personal protection against drone threats. The NightFighter X can also be attached to the NightFighter antenna array for directional deployment.
SteelRock Technologies now offer C-UAV RF technology within an OEM module designed for third party integration into static land-based, hand-carried, vehicle mounted and maritime C-UAV systems.
Also on display at DSEI London this September is a pre-production demonstrator of SteelRock Technologies SR-1 Dronos UAV platform. Fitted with NightFighter X technology the SR-1 Dronos UAV is an innovative 'drone versus drone' aerial solution.