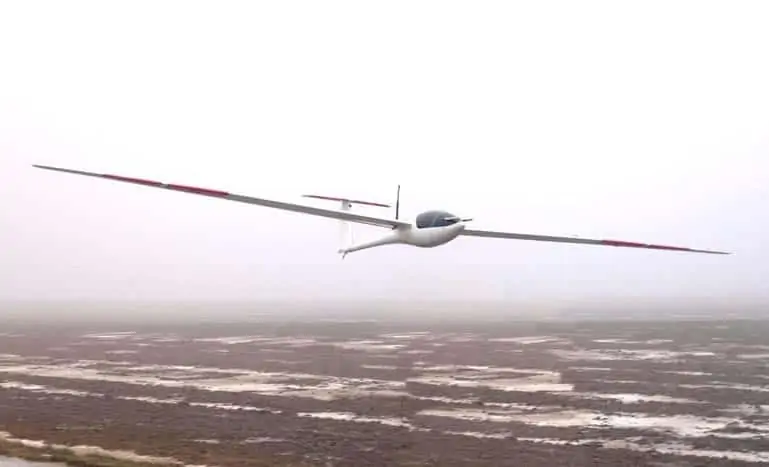 UAVOS has announced that its balloon-launched HiDRON stratospheric glider UAV (unmanned aerial vehicle) has been successfully flown at an altitude of 30 km (98,450 feet), breaking the previous 25km record. The flight was performed in conjunction with Stratodynamics, a provider of high-altitude earth observation platforms and services. The entire flight, including automatic landing, was conducted via beyond visual line-of-sight (BVLOS) technology.
This flight, performed at night, was the first of two flights commissioned to test a new mini-EUSO (Extreme Universe Science Observation) AMON Airglow detector developed by the Slovak Academy of Sciences Institute of Experimental Physics. The flight was also used to test the UAV's stratospheric flight dynamics, data links, and autopilot. The HiDRON was programmed to follow a flight path that provided an unobstructed view upwards from the stratosphere – a mission requirement dictated by the Slovakian team, who were looking for a method that would allow the detector to have a clear view of the zenith and the nadir while unencumbered by a weather balloon. The AMON is planned to be an ancillary instrument for NASA's long duration EUSO-SPB2 balloon mission in 2022.
The HiDRON UAV was lifted by a balloon to the 30km target altitude and released in -60° C (-76° F) stratospheric winds, where it transmitted real-time data to the ground station during a 4 hour controlled descent.
"HiDRON is a real solution to advancing the important research around climate change and other atmospheric chemistry problems," said UAVOS Board Member and CEO Aliaksei Stratsilatau. "HiDRON provides solutions to tough problems that affect all of humankind, which is why it is such a capable and necessary platform for researchers."
"We are extremely pleased with the performance and outcome of this recent 30 km milestone. Our unique method of collecting high-quality large datasets from hard to reach locations offers clients new, cost effective access to stratospheric altitudes," commented Gary Pundsack, CEO of Stratodynamics.
A second flight fielding the AMON Airglow payload is scheduled to take place using the Canadian Space Agency's STRATOS Balloon Launch facility in Timmins, Ontario. This flight will use the Agency's scientific gondola balloon to launch the glider at an altitude of 35km, and the data collected will be compared with the results from a EUSO-Balloon mission that operated in the same region in 2014.