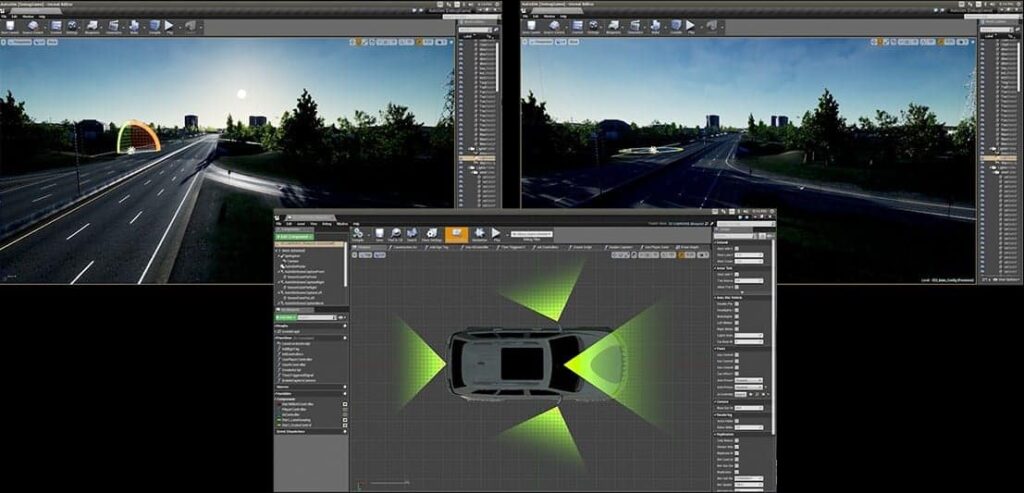 NVIDIA has announced the launch of its new NVIDIA DRIVE Constellation autonomous vehicle simulation platform. The cloud-based platform enables millions of miles to be driven in virtual worlds across a broad range of scenarios — from routine driving to rare and dangerous situations — with greater efficiency, cost-effectiveness and safety than what is possible to achieve in the real world.
DRIVE Constellation is a data center solution comprised of two side-by-side servers. One server — DRIVE Constellation Simulator — uses NVIDIA GPUs running DRIVE Sim software to generate the sensor output from the virtual car driving in a virtual world. The other server — DRIVE Constellation Vehicle — contains the DRIVE AGX Pegasus AI car computer, which processes the simulated sensor data.
The driving decisions from DRIVE Constellation Vehicle are fed back into DRIVE Constellation Simulator, enabling bit-accurate, timing-accurate hardware-in-the-loop testing.
Simulation will become a key component for third-party and regulatory autonomous vehicle standards. Safety agencies such as TÜV SÜD are already using the platform to formulate their self-driving validation standards.
"TÜV SÜD is looking for simulation tools that are trustworthy, robust and scalable for the approval of autonomous vehicles," said Houssem Abdellatif, global head of Autonomous Driving and ADAS at TÜV SÜD. "NVIDIA DRIVE Constellation provides a powerful and highly scalable solution to achieve this goal."
NVIDIA has also announced that Toyota Research Institute-Advanced Development (TRI-AD) is the first customer of DRIVE Constellation. "We believe large-scale simulation tools for software validation and testing are critical for automated driving systems," said Dr. James Kuffner, CEO of TRI-AD.
At the GPU Technology Conference (GTC), NVIDIA founder and CEO Jensen Huang demonstrated the scalability of the DRIVE Constellation platform seamlessly performing driving tests in the cloud. Developers anywhere in the world can submit simulation scenarios to DRIVE Constellation data centers and evaluate the results from their desks.
This large-scale validation capability is comparable to operating an entire fleet of test vehicles, however, it is able to accomplish years of testing in a fraction of the time.
DRIVE Constellation is an open platform into which ecosystem partners can integrate their environment models, vehicle models, sensor models and traffic scenarios. By incorporating datasets from the broader simulation ecosystem, the platform can generate comprehensive, diverse and complex testing environments.
To this end, Cognata, a simulation company, announced that its scenario and traffic model can be supported on DRIVE Constellation. With Cognata's traffic models, developers can define a number of vehicles and other road users, as well as their behavior, based on real-world traffic behavior.
"Cognata and NVIDIA are creating a robust solution that will efficiently and safely accelerate autonomous vehicles' market entry," said Danny Atsmon, CEO of Cognata. "Highly accurate and scalable traffic model simulation technology is essential to validate autonomous vehicle systems with very large combinations of real-world scenarios."
IPG Automotive, an automotive simulation company, is another ecosystem partner working with NVIDIA to enable a high-fidelity vehicle models. Its simulation software, CarMaker, is used to create virtual vehicle prototypes, including models of all main vehicle subsystems. Developers can include test vehicle responses to changes in steering, road surface, suspension, powertrain and vehicle control systems for function development.
"Together with the support of our ecosystem partners, we're making available large-scale, cloud-based, open simulation that thoroughly and safely validates self-driving cars under endless challenging situations," said Zvi Greenstein, general manager at NVIDIA.