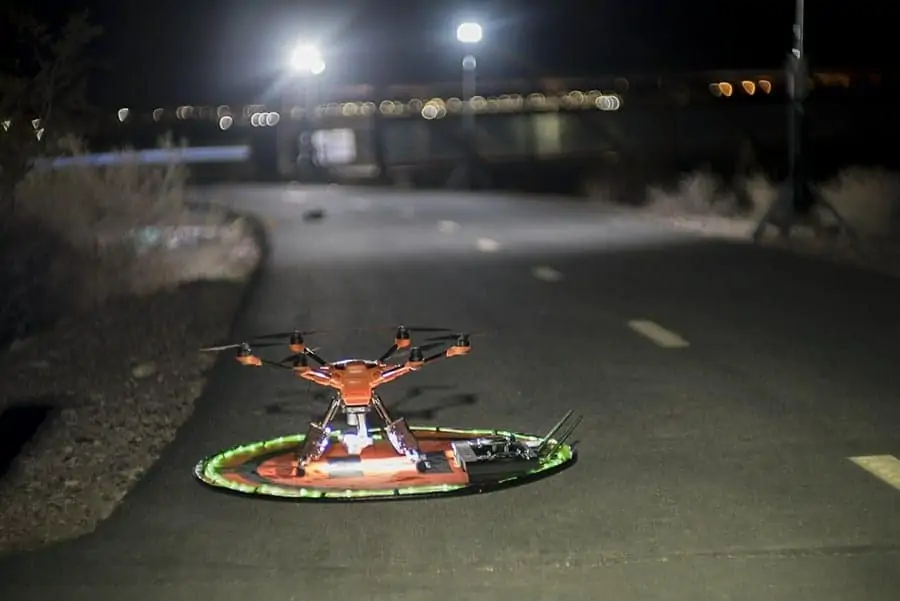 FoxFury Lighting Solutions has announced that, along with Sundance Media Group, Westwind Unmanned Vehicles, Yuneec Aviation, Pix4D, and Autel Robotics, it has hosted a nighttime drone crime scene investigation demonstration in Henderson, Nevada. Recreating a homicide scene at a local equestrian park, the demonstration sought to use unmanned aerial vehicles (UAVs) to capture forensic evidence at the scene in the dark and map it in 2D and 3D for law enforcement use.
A model, outfitted with moulage, was laid out as a murder victim. FoxFury Lighting Solutions provided four Nomad T56 Scene Lights to illuminate the surrounding area to aid with photo and video capture. These lights offer 95 CRI 5600K daylight balanced light allowing accurate color representations in the photos and video collected, which is extremely important when examining the scene at a later date. Douglas Spotted Eagle, Director of Education for Sundance Media Group, said, "Without the daylight-balanced T56 lighting system from FoxFury, color-correct images cannot be captured on scene, leaving investigators a task of color balancing images after the photographs have been captured." Other scene lights were positioned around the park for attendee safety and location marking.
Two drone launch pads were positioned at one end of the scene, one holding an Autel Evo, the other holding a Yuneec H520. The Autel Evo flew for 30 minutes, manually capturing 60 frames per second of 4k resolution images as well as recording video up to 100mbps. This was the first time that Autel showcased their new LiveDeck technology, allowing the aircraft footage to be seen live at the Sundance Media Group A.V.O.C. (Aerial Vehicle Operations Center). Once the data was captured, it was imported into Pix4DMapper software which verified the images and began to compile maps and models of the scene that were available for attendees to view on a large monitor within a few minutes.
The goal of this demonstration was to show the attendees how this combination of portable lighting, drone hardware, and Pix4DMapper software can significantly reduce field and surveying time for law enforcement officials while increasing the accuracy of the investigation. There is also a safety benefit as officials can evaluate a scene from a safe distance rather than putting themselves in harm's way.