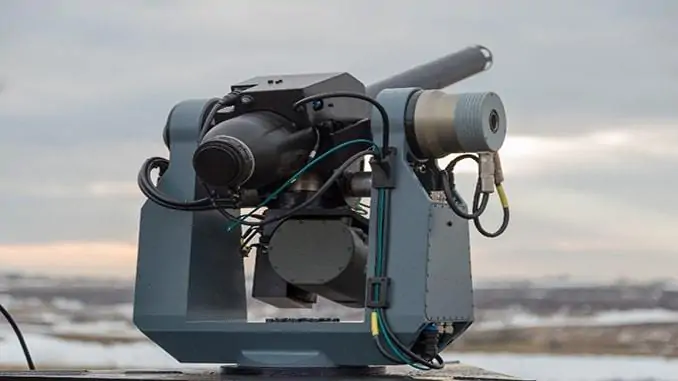 Liteye Systems has announced that, in partnership with OpenWorks Engineering, it has successfully demonstrated the SkyWall net-capture system against real-world UAS (unmanned aerial system) threats. The demonstration was performed at the U.S. Army's JIDO (Joint Improvised-Threat Defeat Organization) Hard Kill 2 event in the desert of the White Sands Missile Range, New Mexico, USA.
During the event, the operator easily targeted the UAS using the onboard SmartScope. Once initiated, SkyWall neutralized the threat by launching a non-explosive, air powered projectile timed to deploy in front of the target and entangle it in its net. The SkyWall launcher can be utilized with a range of projectiles which includes the SP40 round with net and parachute option which lowers the captured drone to the ground under a parachute, or the SP10 net-only round that has a larger net for increased effectiveness against fast moving drones at greater ranges.
The SkyWall product line currently consists of two key devices: the SkyWall 300, a stand-alone or mountable turret unit that can be networked with multiple devices providing larger area protection, and the man-portable SkyWall 100 handheld system, which was first successfully demonstrated at the JIDO Hard Kill Challenge in 2017. The SkyWall 300 will soon be fitted with an auto-reload system to provide increased capability for multi-threat scenarios. Increased range and the ability to capture extremely fast-moving targets is also being addressed.