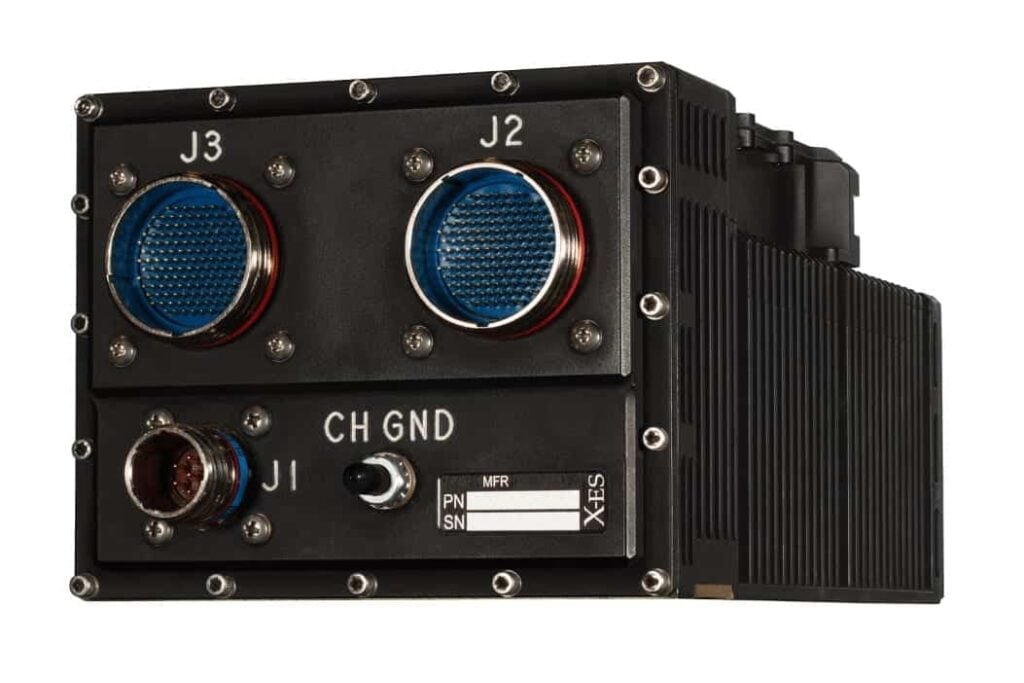 Extreme Engineering Solutions (X-ES) has announced the launch of its latest 3U VPX embedded system, designed for high-bandwidth data acquisition and signal processing in harsh environments such as unmanned aerial vehicles (UAVs) and other unmanned systems. With multiple high-speed optical links, an Intel Xeon D-1500 processor, and a Xilinx Kintex UltraScale FPGA, the XPand6215 offers high performance and reliability in a SWaP-optimized two-slot system.
The XPand6215 is a commercial-off-the-shelf (COTS) rugged chassis hosting two conduction-cooled 3U VPX modules. One slot contains the XPedite2570, a reconfigurable fiber-optic I/O module based on the Xilinx Kintex UltraScale family of FPGAs. The XPedite2570 supplies 12 protocol-independent optical transceivers operating at up to 10.3125 Gb/s, along with 8 GB of DDR4 ECC SDRAM in two channels capable of up to 38 GB/s aggregate bandwidth. The transceivers utilize 50/125 μm multi-mode fiber with MT connectors and are qualified over the full -40°C to +85°C industrial temperature range for reliable performance in extreme environments.
These optical links are paired with a user-programmable Xilinx Kintex UltraScale FPGA, which provides a blend of performance and cost-effectiveness that is ideal for packet processing and DSP- intensive processing in embedded applications.
The other slot of the XPand6215 contains the XPedite7670, a 3U VPX Single Board Computer based on the Intel Xeon D-1500 family of processors (formerly Broadwell-DE). Available with up to 16 Xeon- class cores in a single, power-efficient System-on-Chip (SoC) package, this processor provides the XPand6215 with enhanced embedded system performance. Xeon D processors with up to 12 cores offer native extended temperature support with an operating temperature range of -40 degrees C to +85 degrees C.
The XPedite7670 also provides up to 16 GB of DDR4-2133 ECC SDRAM, while an XPort3305 10 Gigabit Ethernet XMC module installed on the XPedite7670 provides a rugged 10GBASE-SR Ethernet port. The XPand6215's integrated 28 VDC power supply eliminates the need for an additional power supply slot. It also includes a memory bay for a removable 2.5 in. solid-state drive (SSD), adding the option for up to 1 TB of storage. Fully loaded, the system weighs approximately 9.11 lbs. (with an SSD) or 8.75 lbs. (without an SSD), making it ideal for cutting-edge military and industrial applications that require small, lightweight solutions.
Qualified to the MIL-STD-461E/F, MIL-STD-810, and MIL-STD-704F standards, the XPand6215 has passed a battery of tests to ensure reliable operation in challenging environments.