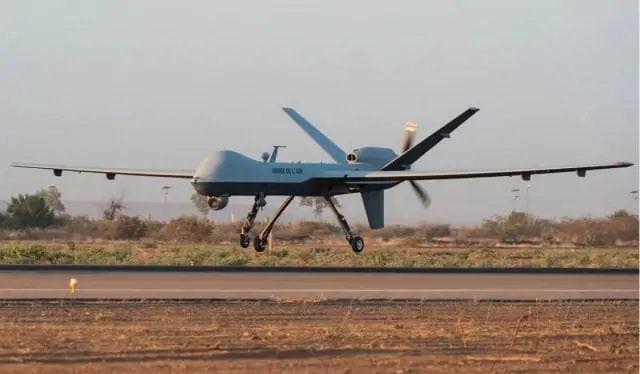 General Atomics Aeronautical Systems, Inc. (GA-ASI) has announced that the French Air Force operated two of the company's MQ-9 Reaper unmanned aircraft simultaneously in support of France's Bastille Day events, one over Paris and the second over Cognac. The "French Reapers," Remotely Piloted Aircraft (RPA) built by GA-ASI, assisted French authorities by providing airborne surveillance over the national celebration.
The French Air Force benefits from permanent corridor systems connecting all military-dedicated airspace, which enabled the RPA to access restricted areas created over Paris for the Bastille Day celebrations. MQ-9 Reaper flew safely over a populated area of seven million people, among numerous other military aircraft participating in the airborne parade
"We are pleased that MQ-9 Reaper flew over this important national event in France," said GA-ASI CEO Linden Blue. "Using its ISR [Intelligence, Surveillance, and Reconnaissance] sensors suite, the MQ-9 enhanced the safety of the French public who attended Bastille Day activities. As a company, we are very proud of the role we play in France's national security and its contribution to the NATO Alliance."
In 2017 France received its second MQ-9 Reaper system, consisting of three aircraft and a ground control station (GCS). Two French MQ-9's are based in Cognac Châteaubernard Air Base, where they perform daily training or ISR support to interministerial missions in French airspace. The 1/33 Belfort RPA squadron currently operates six Reaper RPA to provide intelligence and support capabilities to Operation Barkhane and the Special Forces.
The French Reaper fleet has flown some 21,000 flight hours to date. By the end of 2019, the French Air Force says it will have 12 MQ-9s operated in shifts by 30 crews.