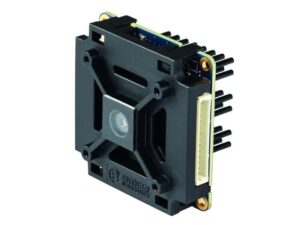 Entner Electronics has announced the launch of its new UC-200 camera, designed for easy integration into embedded vision systems for unmanned aerial vehicles (UAVs) and other robotic platforms. The camera utilizes a Sony 13MP EXMOR (rolling shutter) sensor operating at 30fps and an integrated F2.2 lens to achieve high sensitivity, low noise and high speed image capturing. The proprietary camera read-out electronics are optimized for a low latency.
The camera supports 1080p/60 HDMI or LVDS output and 13 megapixel snapshot mode. Other output resolutions are available on request. A high-quality digital zoom option up to 16x is available to increase image detail.
Find suppliers of Cameras for UAV applications >
All interfaces including HDMI, LVDS, Ethernet, and USB are available in the camera taking away the need for additional interfacing electronics. The camera is controllable through the proprietary #SPEED protocol or via the industry standard VISCA protocol.
An onboard ARM processor running Linux OS is open to the user to add image processing functionality or on-screen controls to the camera. Alternatively Entner Electronics offers software development support to realize customer specific applications.