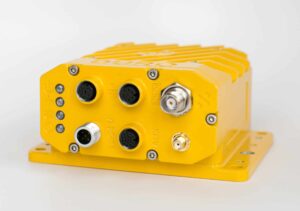 Swift ​​Navigation and ​​​Carnegie ​​Robotics ​​LLC ​​(CRL) have announced ​​the ​​availability ​​of ​​Duro™, ​​an ​​extremely ​​rugged, ​​low-cost, ​​centimeter-accurate, dual-frequency ​​RTK ​​GNSS ​​receiver ​​in ​​an ​​easily-deployable ​​enclosure. ​​San ​​Francisco-based ​​Swift Navigation ​​teamed ​​with ​​Pittsburgh-based ​​CRL​ ​to ​​develop ​​Duro, ​​which ​​is ​​a ​​ruggedized, ​​enclosed ​​version ​​of ​​Swift ​​Navigation's ​​flagship ​​Piksi® Multi ​​dual-frequency ​​RTK ​​GNSS ​​receiver. ​​
Built ​​for ​​outdoor ​​operations, ​​Duro ​​combines ​​a ​​rugged ​​enclosure ​​with ​​centimeter-accurate ​​positioning ​​at a ​​breakthrough ​​price. ​​Leveraging ​​design ​​and ​​test ​​standards ​​from ​​military ​​and ​​mining ​​hardware, ​​the GNSS ​​sensor ​​is ​​protected ​​against ​​weather, ​​moisture, ​​vibration, ​​dust, ​​water ​​immersion ​​and ​​EMI ​​exposure typical ​​of ​​long-duration, ​​harsh ​​outdoor ​​deployments. ​​In ​​addition ​​to ​​its ​​ruggedness, ​​Duro ​​is easy-to-deploy ​​and ​​is ​​ready ​​to ​​connect ​​right ​​out ​​of ​​the ​​box. ​​Primary ​​industries ​​for ​​this ​​product ​​include: Autonomous ​​Vehicles, ​​Robotics, ​​Precision ​​Agriculture, ​​Mapping, ​​Military, ​​Outdoor ​​Industrial ​​and Maritime.
Find suppliers of GNSS Products for Unmanned Vehicles >
"We ​​are ​​thrilled ​​to ​​make ​​this ​​product ​​available ​​for ​​the ​​many ​​industries ​​that ​​can ​​now ​​unlock ​​vast autonomous ​​vehicle ​​applications ​​with ​​cost-effective ​​RTK ​​solutions," ​​said ​​Tim ​​Harris, ​​CEO ​​and Co-Founder ​​of ​​Swift ​​Navigation. ​​"Duro ​​is ​​the ​​perfect ​​combination ​​of ​​our ​​centimeter-accurate ​​GNSS technology ​​and ​​Carnegie ​​Robotics' ​​rugged ​​robotic ​​systems, ​​renowned ​​for ​​getting ​​work ​​done ​​for ​​real world ​​applications​."
"This ​​product, ​​the ​​first ​​of ​​many ​​joint ​​developments ​​between ​​Swift ​​and ​​Carnegie, ​​marks ​​an ​​exciting innovation ​​milestone ​​that ​​ticks ​​all ​​the ​​boxes: ​​high-accuracy, ​​low-cost ​​and ​​ruggedized ​​for ​​real ​​world applications," ​​said ​​John ​​Bares, ​​CEO ​​of ​​Carnegie ​​Robotics. ​​"We ​​are ​​providing ​​a ​​solution ​​with ​​significant implications ​​for ​​manned ​​and ​​unmanned ​​vehicles ​​in ​​industries ​​including ​​mining, ​​material ​​handling ​​and precision ​​agriculture. ​​Duro's ​​feature-set ​​and ​​price ​​point ​​will ​​unlock ​​a ​​new ​​generation ​​of ​​outdoor autonomous ​​robotic ​​systems."
Top-level ​​benefits ​​for ​​users ​​include:
Dual-frequency ​​RTK ​​GNSS, ​​providing ​​accurate ​​position ​​and ​​solution ​​fast ​​recovery
Tough, ​​military-grade ​​hardware
IP67-rated ​​enclosure ​​with ​​M12 ​​standard-sealed ​​connectors ​​and ​​passive ​​thermal ​​design
Raw ​​IMU ​​data ​​stream ​​output
Future-proof ​​hardware ​​with ​​in-field ​​software ​​upgrade ​​capability
Protected ​​I/O, ​​including ​​RS232 ​​Serial ​​Ports, ​​100mbit ​​Ethernet, ​​Event ​​Inputs, ​​Pulse ​​Per ​​Second (PPS) ​​and ​​more
Mounting ​​accommodation ​​for ​​GPS ​​antenna, ​​further ​​simplifying ​​vehicle ​​installation
Durable ​​UV ​​and ​​chemical-resistant ​​powder-coating
All ​​in ​​a ​​single ​​package ​​that ​​is ​​easy ​​to ​​install ​​on ​​any ​​vehicle.
Duro ​​builds ​​on ​​Swift ​​Navigation's ​​mission ​​to ​​utilize ​​real-time ​​kinematics ​​(RTK) ​​technology ​​to ​​provide location ​​solutions ​​that ​​are ​​100 ​​times ​​more ​​accurate ​​than ​​traditional ​​GPS, ​​at ​​a ​​fraction ​​of ​​the ​​cost ​​of competing ​​systems. ​​Ushering ​​in ​​a ​​new ​​era ​​of ​​precision ​​GPS ​​affordability, ​​Duro ​​incorporates ​​Piksi ​​Multi and ​​builds ​​on ​​this ​​revolution ​​in ​​advanced ​​precision ​​GNSS ​​capabilities ​​for ​​the ​​mass ​​market.