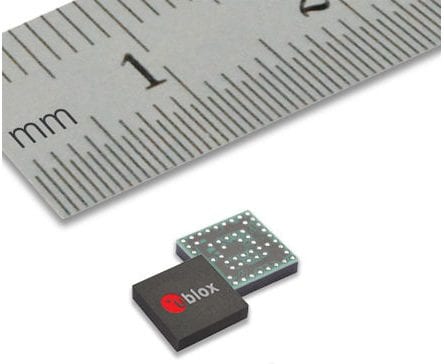 u‑blox has announced the launch of the ZOE‑M8G, an ultra‑compact GNSS (Global Navigation Satellite System) receiver module, specially designed for markets where small size, minimal weight and high location precision are essential.
The ZOE‑M8G offers high location accuracy by concurrently connecting to GPS, Galileo and either GLONASS or BeiDou. It also provides -167 dBm of navigation sensitivity. This makes the ZOE‑M8G ideal for wearable devices, unmanned aerial vehicles (UAVs) and asset tracker applications.
The ZOE‑M8G helps simplify product designs, because it is a fully integrated, complete GNSS solution with built‑in SAW‑filter and Low Noise Amplifier (LNA). This means it can be used with passive antennas, without the need for additional components, and without compromising performance.
The ZOE‑M8G GNSS module measures 4.5 mm x 4.5 mm x 1.0 mm. Due to its very small size, a complete GNSS design using a ZOE‑M8G module takes approximately 30% less PCB area compared to a conventional discrete chip design with a CSP chip GNSS receiver.
Uffe Pless, Product Marketing, Positioning Product Center at u‑blox, said: "When you're designing products such as smart watches, fitness trackers, asset trackers, UBI dongles and even drones, every square millimeter and every gram counts. The u‑blox ZOE‑M8G makes it significantly easier for product designers to achieve precise location tracking while keeping within their strict form factor and weight restrictions."
Find suppliers of GPS/GNSS Receivers >