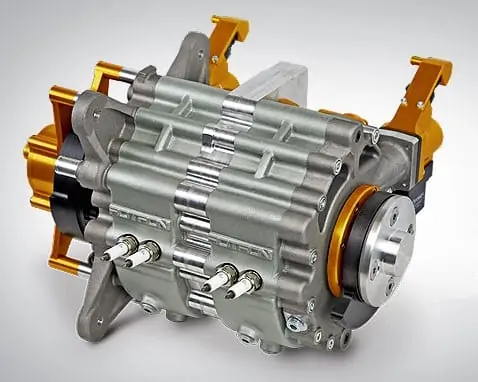 Rotron Power, a manufacturer of advanced rotary-powered propulsion systems for Unmanned Aerial Vehicle (UAV) applications, has announced the completion of more than 500 hours of simulated flight time on its RT600 rotary engine, marking the latest significant milestone in its engine development programme.
The RT600 is shaping a new generation of tier 2 class UAV engines, setting what Rotron claims are industry leading standards in weight, power and size, as well as operating economics. UAV manufacturers and operators demand engines that provide maximum performance with an optimal purchase and cost per flight hour. The reliability of UAV engines and their components is a major concern to the industry, and combined with increased deployment to remote and inhospitable environments, maintenance management of engines has become an even more complex logistical exercise. The operators now predominantly focus on understanding and predicting total life-cycle costs of their engines and the components and the ability to keep the aircraft flying and mission ready. To date, the UAV market has failed to deliver a high endurance propulsion system in the 40-60 max continuous horsepower category, with current engines achieving a typical rated flying time of no more than 150 hours before overhaul.
This achievement by Rotron in engine endurance and reliability is the culmination of a prestigious grant from the National Aerospace Technology Exploitation Programme (NATEP) to research new and innovative methods for extending the flight duration and longevity of UAV engines. During the project Rotron worked in conjunction with a manufacturing partner to carry out analysis of materials, root cause analysis of manufacturing process and component failures, and identification of the stresses and deformations in the load path that are functions of time. The output data was used for the implementation of preventative actions and the adoption of specialist manufacturing techniques alongside Rotron's engineering and design capabilities to advance and push the boundaries in rotor and eccentric shaft design and component manufacturing. As such, the engine delivers a significant increase in operational endurance – a claimed 350 hours in front of its competitors.
Jim Edmondson, Rotron Power MD and Parent Company Gilo Industries Group CEO, said: "Rotron's achievement of 500 hours is an exciting and significant milestone in our engine development programme and provides us with even more confidence to be a disruptive force within the UAV industry, opening new customer and platform opportunities. Rotron's extensive development of the RT600 engine to validate and improve its reliability and endurance allows us to deliver maximum mission-ready availability and bottom-line value to our customers – helping to reduce maintenance schedules, logistical and supply requirements, and lower operating costs. Our engines allow customers to fly longer with superior performance compared to others in this field, and will continue to play a crucial role in the UAV industry well into the future."
Engine analysis and test data collected over the duration of the development, alongside continued engine testing, will be used to identify an extended, definitive flight hour limit for the RT600, and demonstrate the capability and durability of the Rotron engine well beyond its original scoped service life.
Find suppliers of Propulsion & Power Systems for Unmanned Applications >