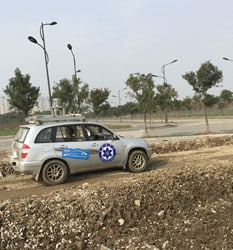 Velodyne LiDAR, a developer of real-time LiDAR sensor technology, has announced its sensors were used by 17 out of the 20 competitors taking part in the Intelligent Vehicle Future Challenge (IVFC) in China's Changshu city. The purpose of the event was to showcase autonomous vehicles in action, and the top five finishers all used Velodyne's HDL-64 sensor.
Inspired by the DARPA Challenge, the IVFC is now in its seventh year, combining a conference dedicated to self-driving vehicles and a competition along a varied 13-kilometer course. The IVFC, underwritten by the National Natural Science Foundation of China, aims to advance perceptions of the natural environment and decision-making for unmanned vehicle platforms. Wei Weng, Velodyne Director of Asia Sales, addressed that theme in his presentation to the future roboticists in attendance.
Among the field of 20 teams, drawn from universities and research entities with some corporate sponsorship, the Military Transportation University contingent again took first place. Hailing from Tianjin, China, the MTU team won for the second consecutive year using Velodyne's HDL-64 as its core sensing technology. For its effort, the MTU team received a Velodyne VLP-16 LiDAR Puck. Although the HDL-64 sensor was the winning technology, Velodyne is working to provide similar functionality in a form factor and at a price suited to the automotive industry. The company is scheduled to deliver the new sensor to automotive OEMs in the first quarter of 2016.
Changshu city, Jiangsu Province, is home to an economic development zone created specifically to promote the automotive industry. The IVFC course included urban, off-road and highway settings, with teams offered the option of skipping the off-road setting. Vehicles were judged on "4S" – safety, speed, "smartness" and smoothness. The 2015 contest added a new challenge: passing other vehicles, mirroring interest in automated driving lane change features beginning to take hold in the automotive industry.
"For off-road settings, Velodyne LiDAR was the critical sensing technology to simultaneously localize, map and plan a path through the unstructured environment," Weng said. "This grueling challenge put each LiDAR sensor in our product line – the 16-channel VLP-16 LiDAR Puck and the 32-channel HDL-32E, as well as the HDL-64 – through a series of rigorous real-world tests. We're delighted that the HDL-64 was able to assist the top five finishers in such a substantial way, and that Velodyne was able to contribute to the education and outcomes of a dozen other teams."