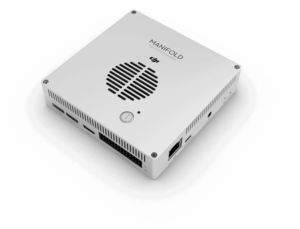 DJI, a developer of unmanned aerial vehicles (UAVs), has announced the release of the Manifold, a high-performance embedded computer specially designed to work with the company's Onboard SDK. It enables developers to transform aerial platforms into intelligent flying robots that can perform complex computing tasks and advanced image processing on the fly.
The embedded NVIDIA Tegra K1's 4-Plus-1 Quad-core ARM Cortex-A15 Processor, and 192 GPU CUDA cores with clock speeds of up to 2.2 GHz, provide powerful image processing abilities, efficient parallel computing, and a fast throughput of 326 GFLOPS. The Manifold supports DirectX and OpenGL, enabling aerial platforms to process high resolution images in real time for use in artificial intelligence applications such as computer vision and deep learning.
The Manifold's built-in Ubuntu operating system supports CUDA, OpenCV and ROS, making it ideal for research and development of professional applications. The Manifold can natively run the DJI Onboard SDK, access flight data and perform intelligent control and data analysis.
Equipped with USB, Ethernet, Mini-PCIe, HDMI, UART, SPI and I2C ports, the Manifold allows developers to connect to a wide array of sensors, monitors and other peripheral devices. The Manifold also provides customized ports to connect to the Matrice 100 and process the images captured by the camera mounted to the platform.
The Manifold is optimized for power efficiency with a peak power consumption of approximately 15 W, or one fourth of that of a typical laptop. The Manifold's Tegra CPU uses four A15 cores for heavy computing tasks, and a single battery-saver core when performing simple calculations. The number of active cores can be dynamically adjusted to decrease power consumption, and the extra core will automatically be activated when needed.
(source: DJI)