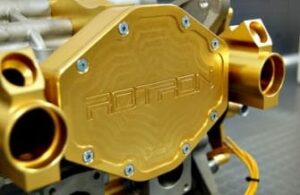 Rotron Power Ltd, a manufacturer of rotary-powered propulsion systems for Unmanned Aerial Vehicles (UAVs), has announced that it has received a grant from the UK National Aerospace Technology Exploitation Programme (NATEP) to research new and innovative methods for extending the flight duration and longevity of UAV engines.
The reliability of UAV engines and its components is a major concern to the industry, combined with increased deployment to remote and inhospitable environments making the maintenance management of engines an even more complex logistical exercise. The operators now predominantly focus on understanding and predicting total life-cycle costs of their engines and components and on the ability to keep their aircraft flying and mission ready. To date, the UAV market has failed to deliver a high endurance propulsion system in the 20-60 horsepower category, with current engines achieving a typical rated flying time of no more than 150 hours before overhaul.
The NATEP grant will allow Rotron, in conjunction with A&M EDM as a manufacturing partner, to carry out analysis of materials, root cause analysis of manufacturing process and component failures, and identify the stresses and deformations in the load path that are functions of time. The output data will then be used for the implementation of preventative actions driving continuous improvement in the engine's operational longevity.
To broaden the project, Rotron will collaborate with A&M to explore alternative production methods and will be investigating new techniques in Electro Discharge Machining (EDM) manufacturing. Using EDM, the team will also have the capability to use material technology outside of normal machining processes, as well as potentially reducing the time taken for complex parts to be manufactured. Rotron will adopt these specialist manufacturing techniques alongside its unique engineering and design capabilities to advance and push the boundaries in rotor, eccentric shaft and seal design and manufacture. As such, the engine is expected to have a significant increase in operational endurance and a disruptive impact on the UAV industry.
Jim Edmondson, CEO Rotron Power, said "We are delighted that this important initiative is supported by NATEP. By working together with our partners A&M EDM to stimulate innovation in this exciting and challenging area, we aim to accelerate the development of a high endurance rotary engine and deliver an extreme propulsion system that will benefit the UAV and aerospace industries. Being awarded this grant is a reflection of the effort the team have put into the proposal and NATEP's trust in the technical ability of Rotron."
Kevin Baker, sponsoring NATEP Technology Manager, added "NATEP is pleased to be able to support Rotron and A&M EDM in this project. The UAV market is growing rapidly, and we want to help British companies to develop their technology to access a bigger share of this market."