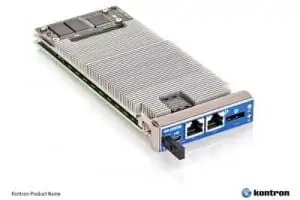 Kontron has announced the introduction of its most powerful single AdvancedMC™ processor module, designed with the 3rd generation Intel® Core™ i7 processor. With up to 4 x 2.1 GHz, the new Kontron AdvancedMC™ processor module AM4022 offers more than twice the processing performance and up to four times the 3D graphics performance of its predecessor. This makes the Kontron AM4022 an ideal fit for applications based on MicroTCA™ and AdvancedTCA® integrated platforms that require high-end computing performance.
With its outstanding overall performance it is ideal for MicroTCA™ and AdvancedTCA® telecommunications applications such as IPTV, media servers and media gateways, video data processing and in test solutions for networking equipment. Also medical, test and measurement, automation, aerospace, military and security markets which require fast data processing are best served with the Kontron AM4022. And with MicroTCA.1 support for a robust system design and an optional temperature range of -25 to +70 °C, it withstands the toughest mechanical and thermal environmental conditions.
The Kontron AM4022 comes with latest dual-core and quad-core CPU performance that is scalable up to the 2.1 GHz Intel® Core™ i7-3612QE processor. Additional versions with further standard voltage, low voltage and ultra-low voltage processors will be available, providing developers and OEMs the highest flexibility when designing leading edge systems with high performance and low heat dissipation. Compared to its predecessors, the integrated Intel® HD4000 graphics of the Kontron AM4022 provides an immense performance boost supported by DirectX® 11, OpenGL 3.1, OpenCL 1.1 and Intel® QuickSync Video for high performance video transcoding. The new AMC features up to 8 GB of soldered DDR3 1600 MHz ECC-protected memory for increased data integrity and system stability. Additionally, up to 64 GB of SLC NAND Flash can be integrated to host a complete operating system and application code which substantially increases overall system speed and availability.
Moreover, the AMC.0/.1/.2/.3 compliant Kontron AM4022 offers eight PCI Express Gen3 lanes to the backplane, configurable as 2 x PCIe x 4 or 1 x PCIe x 8. There are also four GbE ports; two on the front and two 1000BASE-BX (SerDes) on the backplane as well as two 6 Gbit/s SATA ports. The Kontron AM4022 features a DisplayPort output on the front panel making additional graphics modules unnecessary. Alternatively, a COM port for external management access is available. An USB 2.0 port with mini USB jack on the front panel rounds out the feature set.
For customization purposes the Kontron AM4022 also offers additional interfaces to the extended options region of the AMC ports – one SATA, one COM, one USB 3.0, three USB 2.0 ports (one for debug) and four GPIO signals.
The Kontron AdvancedMC™ processor module AM4022 has full hot-swap capabilities for monitoring, controlling and replacing the module. The Intelligent Platform Management Interface (IPMI) enhances the board's availability while reducing the overall operating costs and mean-time-to-repair. For board management and basic IPMI commands, it features a dedicated Module Management Controller (MMC).
Kontron also offers a choice of MicroTCA™ systems for the Kontron AM4022: The Kontron OM6060, for example, can be used as entry level platform for operating the Kontron AM4022 with point to point fabrics PCIe in combination with the Kontron basic MCH AM4901 which provides Ethernet connectivity to all AMC slots. In this system, the Kontron AM4022 can be combined with I/O cards, DSP cards and different processor boards. For higher demands, the Kontron MicroTCA™ system OM6120 provides multiple connections for up to 12 AMCs. The system can be operated with dual MCHs and allows additionally switching PCIe fabrics in combination with the Kontron PCIe MCH AM4904.
The highly-integrated Kontron AdvancedMC™ processor board AM4022 will be available in Q3 2012. It supports Windows 7 (64 bit), Windows 2008 Server R2, as well as various Linux distributions such as RedHat, Fedora and Wind River Linux PNE 4.X.